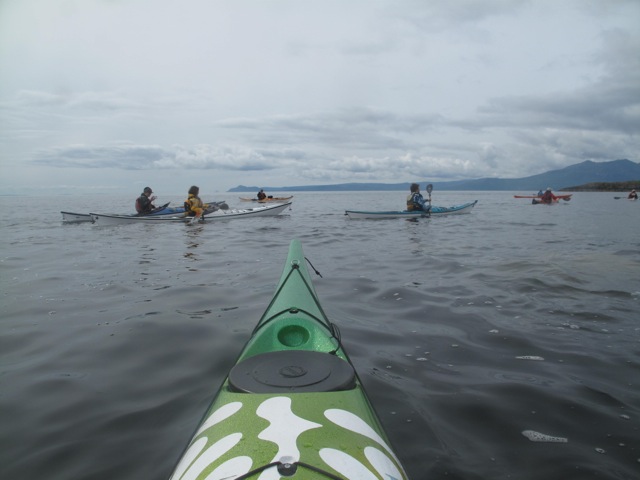 We enjoyed a full range of British Summer weather at the Bute Kayak festival! And some fantastic paddling in a very pretty area.
The evening when I arrived and the first day were gloriously warm and sunny, with gorgeous views towards the spiky peaks of Arran. Day 2 was fairly windy and misty with a bit of drizzle. Day 3 was calm but very very wet – not heavy rain but the sort of light & persistent rain that seeps into everything! Despite the damp on the last day, I think the 30 participants and the coaches all left with smiles on their faces.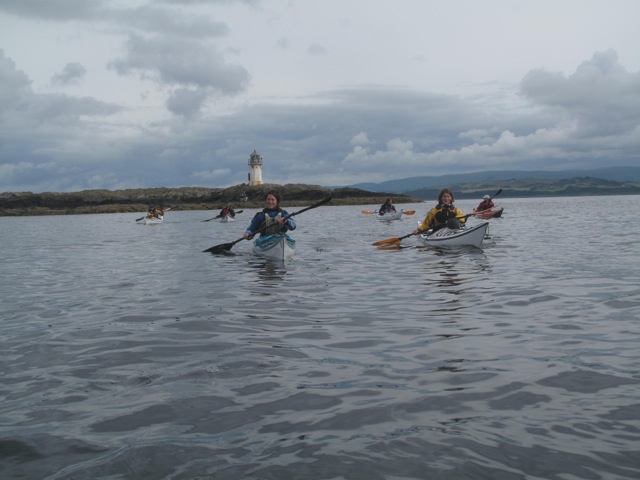 There were some skills session on offer – manoeuvring, rescues & towing, Greenland style rolling & forward paddling. I was accompanying folks on a 2-day circumnavigation of Bute, which is a pretty sporty 30km per day. I was really impressed with the pluckiness of everyone, especially on the 2nd day when the last 15km were into quite a strong headwind. People who hadn't been in a kayak for over 2 years paddled for 5 hours & reached their chosen destination, still smiling! Today a group of us paddled from Bute around Little Cumbrae island (and back via Millport on Cumbrae). The sea round the bottom end of Little Cumbrae was lively and we saw lots of seals & birds. We had dreamt of ice cream at Millport, but settled instead for steaming mugs of soup, hot chocolate and tea!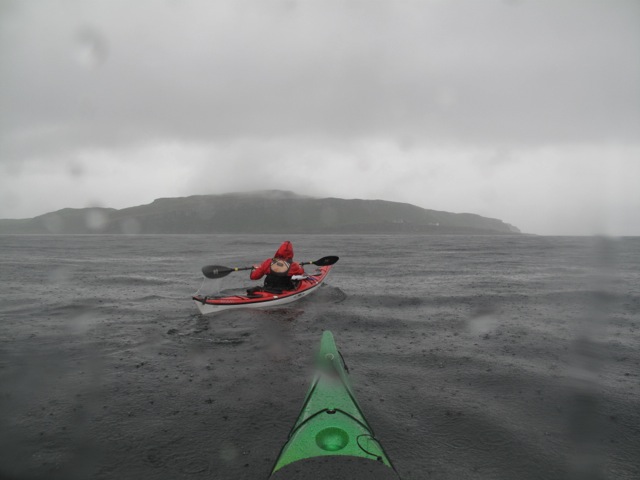 Each evening we ate delicious meals at the Ettrick Bay tearooms (where we camped). I can really recommend their huge and tasty cakes! I gave a talk about paddling in Tierra del Fuego, Sarah Outen gave her first talk about her looping the globe adventure since her and her rowing boat were hit by a typhoon in the Pacific. Alice & Sally gave talks about women's clothing & navigation.
It was a great friendly event. Thanks to Roddy, Sally & Alice for organising it. I enjoyed working with Kate Duffus & Morag Brown & paddling in some beautiful spots with fun people.  I didn't work with Carol Lang, but it's always good to see her too! You can read a few comments about what the participants thought here.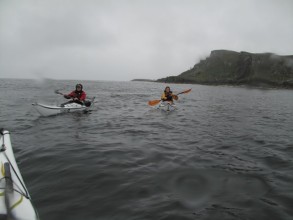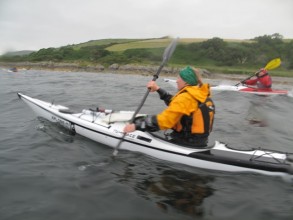 Ooh, and I have a lovely new kayak! My custom Atlantic LV was designed by Jason at Valley Seakayaks, based on some suggestions from me. It was a very pleasant surprise when I opened the wrapper on Friday and saw the green glittery shapes on the hull! The Atlantic LV & Atlantic are great kayaks which until recently only came in a few standard colours. You can now order them with custom colours (for a comparable price to the Valley kayaks), or you can grab yourself a very competitively priced quality sea kayak by buying one in standard colours.
Now I am in Oban with Sarah Outen. Tomorrow, we paddle across to the isle of Mull for a week or so of paddling adventures. I'm excited!