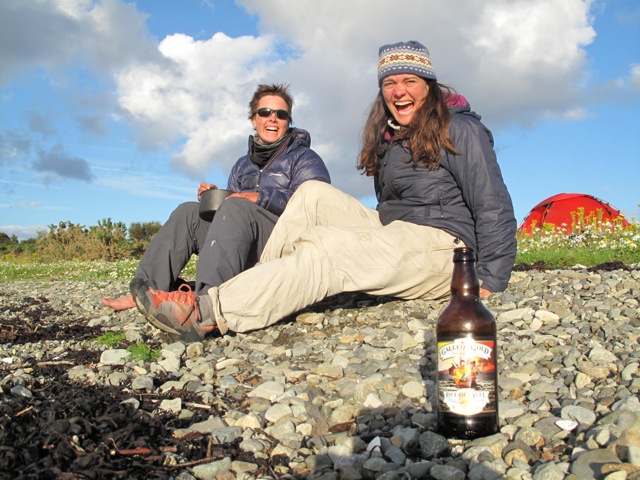 The Scottish island of Mull has reminded me that you don't have to travel far and wide to find fantastic kayaking & beautiful scenery. A month ago, Sarah Outen and I agreed to go paddling in Scotland for a week or so with the very loose aim of kayaking around Mull (or whatever else we fancied). We started in Oban, since that involved less driving & Colin McWilliams from Oban Sea Kayak Guides kindly allowed us to leave our car at his and Gill's house. We had the added bonus of being able to launch from right outside his door.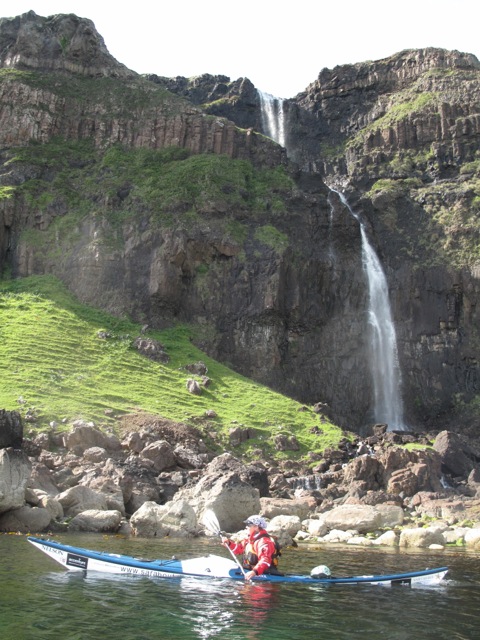 I've had 2 fleeting visits to Mull in the past but didn't know that much about the island. My preparation consisted of gathering up my kit,buying food,  printing off the Oban tide times & glancing at the chart and OS maps of the area -kindly lent to me by Roger Chandler from 'Coastal Spirit'. Roger guided some kayakers around Mull in April and his maps were handily labelled up with the relevant tidal information & some suggested campspots. Thanks Roger!
We saw the word 'otters' next to one campspot on Mull, not far from Oban and that was enough to convince us to spend our first night there. The first wildlife we encountered were not otters, but the famous Scottish midges. There was very little wind and they flocked to welcome their visitors. In actual fact this was to be the worst midge-ing we had as every other campspot had at least a breeze through it & we were remained mostly void of itchy red spots.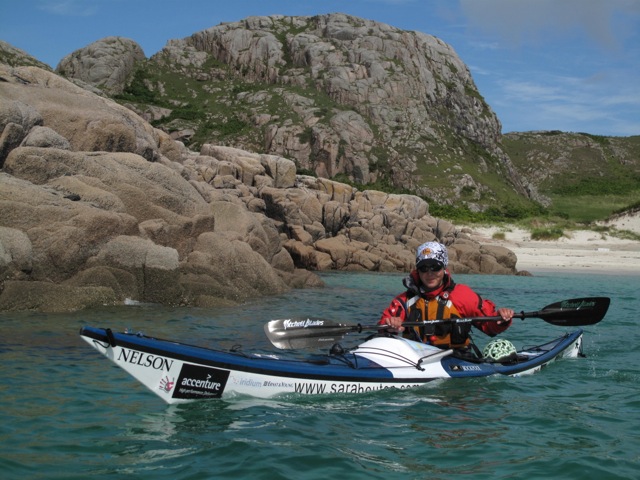 The next morning, Sarah excitedly pointed to a much cuter view – 2 otters playing around in the middle of the bay. An hour later, while paddling along impressive rocky buttresses, she spotted a white tailed eagle, regally looking down on us from a dead tree. We were able to drift quite close which was very exciting. I realised that I was traveling with a top wildlife spotter & requested more, more, more! The next day, she saw a basking shark (one of 3 we saw on the trip) & a group of bottle nose dolphins.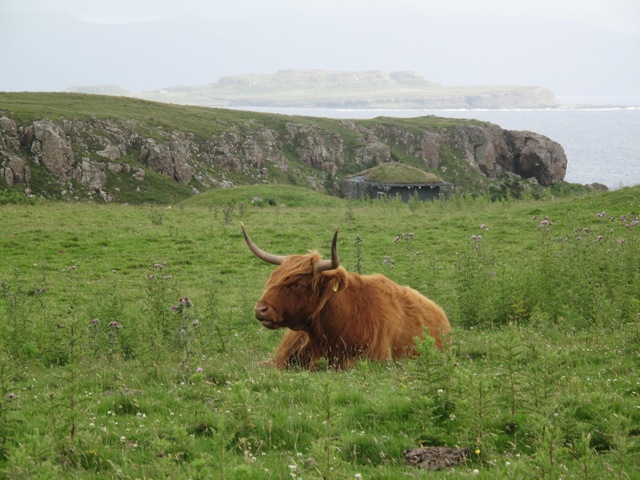 The South side of the Ross of Mull was gorgeous with different rocks producing varied scenery. Lava flows gave rise to dramatic layered cliffs, while towards Iona lower-lying reddish granite was weathered like elephant hide. We camped on a golden sandy beach, rimmed by clear turquoise water & were given some mackerel by a family on holiday.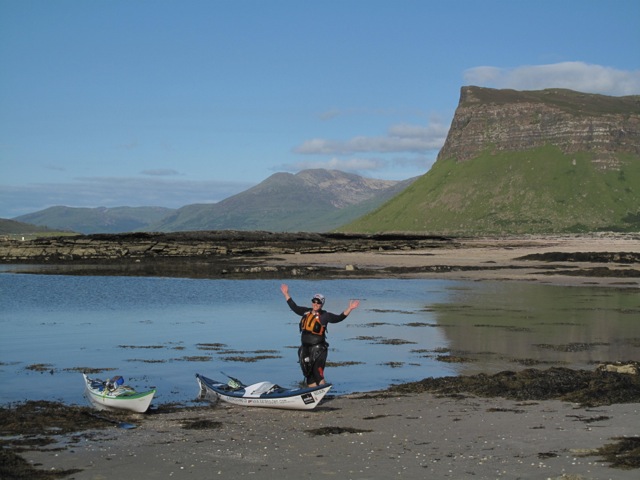 I was really hoping to paddle out to Staffa & the Treshnish isles, but a force 5-6 westerly wind stopped us on the day we hoped to make the crossings. Instead we paddled from Inch Kenneth to Gometra, where we found a bothy that we didn't know anything about. What a bonus!
The following day, the wind was still against us, but weaker than forecast and we made a dash for Staffa, paddling under a full rainbow. At the island, I was excited to see the amazing basaltic columnar joints and Fingal's Cave! Puffins, black guillemots, fulmars & shags buzzed around us, although most of them of finished nesting by now.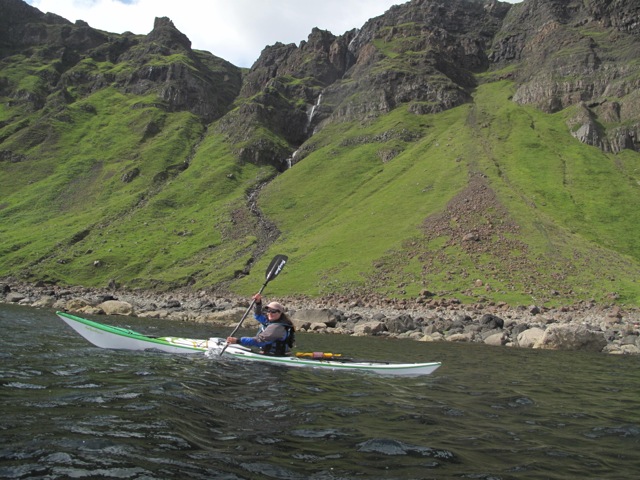 We camped on Lunga – in a gully half way down to island rather than the more usual spot on the North tip, so we could shelter from the NW winds. We started exploring the south end of the island, but were dive bombed by arctic skuas, so we decided to head north instead! We were too late in the season to see any nesting puffins (which the island is famous for), but saw plenty of black rabbits and black slugs!
Next stop was the colourful houses in Tobermory  where we had a welcome shower (7 minutes of bliss for £2 at the harbour!), munched on fish and chips, visited the pub & spent a bit of money in the gift shops.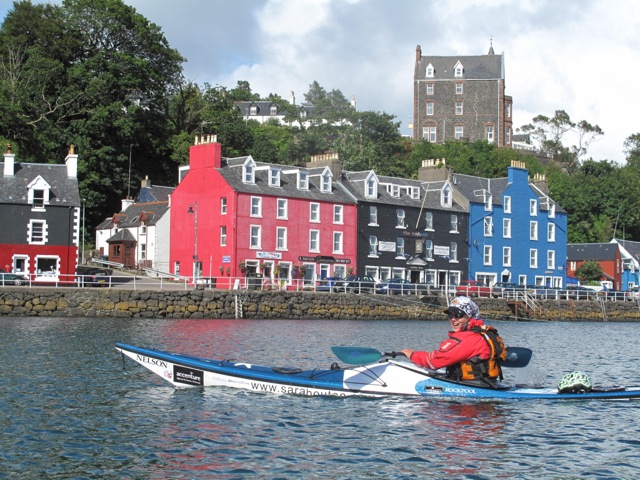 From Tobermory, we were on the home straight and paddled back to Oban in two half days. Our last evening was spent on a lovely beach roasting marshmallows over the fire & supping a beer that was brewed on Mull.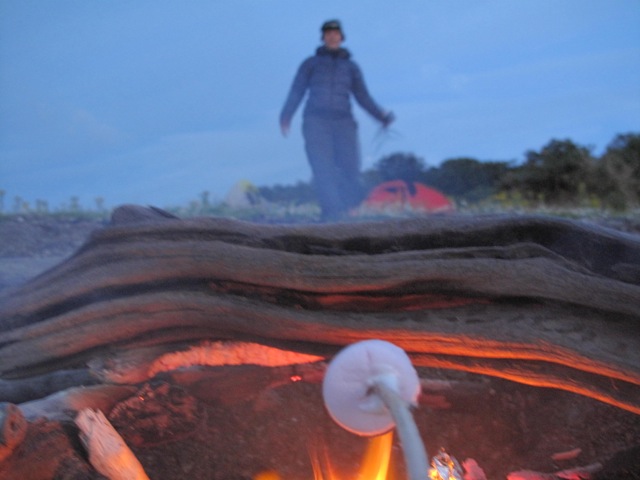 I'd reccomend a paddle around all – or part – of Mull to anyone! It's a great place.