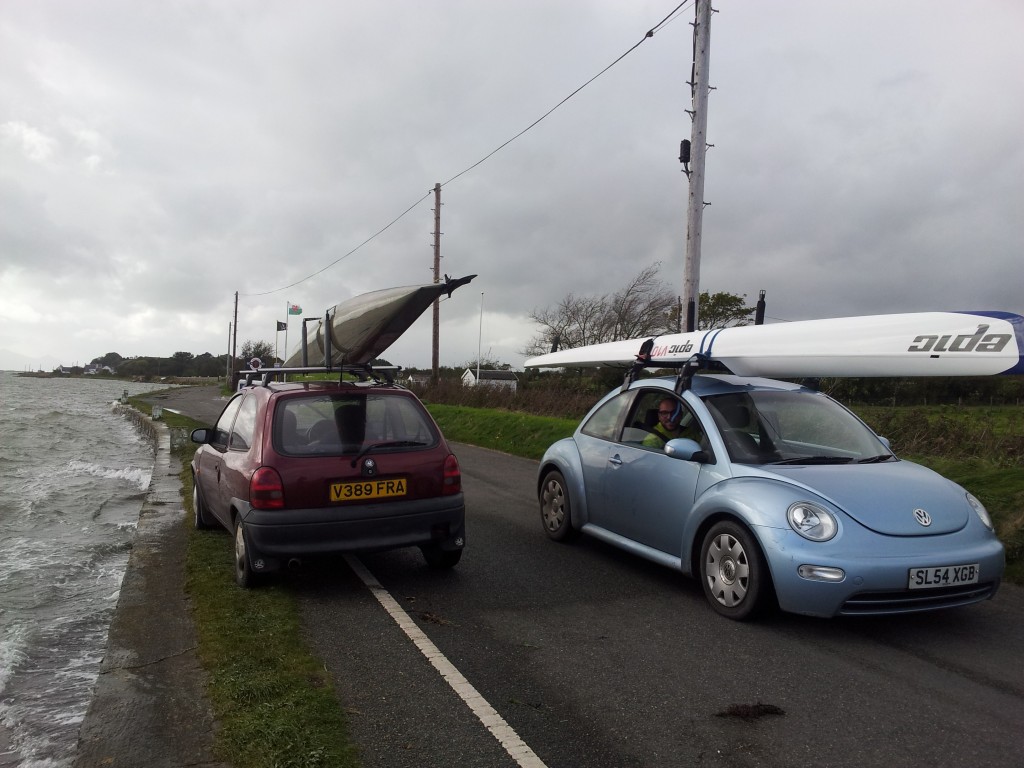 There was seaweed on all over the road to the Sea Zoo this morning – a tell-tale sign that the tides are pretty large at the moment. When Marcus Demuth and I launched from the slipway, the tide was quite far out but rising… The prediction is 9.8 metres HW at Liverpool – we'd need to be back before high tide or my car might not be there!
John Willacy created the 'Menai Challenge' last year – a time trail on the Menai Straits between the Sea Zoo & Gallows Point (close to Beaumaris). A big tide means a fast flow and fast time, but there's an optional 'loop of the bridges' which spices it up a bit since you have to paddle against the tide for about a mile and a half. By the Sea Zoo, the wind was brisk enough to pick my empty Rapier up and bounce it along the beach for a few metres while I was helping Marcus get his Epic ski off the roof. Unfortunately, there is a bit of damage to the gel coat on the top & a lot of new scratches, but she's still seaworthy.
We set off at a good pace – although the GPS / speed track shows we didn't move out into the faster current for about 4.5 minutes. It was good to have Marcus there as it spurred me on to try just a bit harder if I was feeling tired. Marcus decided against a loop of the bridges, so I was on my own as I backtracked from Menai Bridge back up to Britannia Bridge. It was hard work going upstream as there wasn't an eddy very often. The heartrate monitor shows how I had to work extra hard to make it around Britannia Bridge pillar before the fast tide swept me past on the wrong side! A group of people in a RIB in the eddy beside the Pillar saw my face at it's reddest!
From here on I was tired and had to motivate myself to keep working hard. The heart rate monitor & GPS helped as I could see when my heart rate and/ or speed dropped. That distracted me from the pain & pushed me to dig deeper.
In the end my time was 1 hour, 31minutes,35 seconds – a whopping 8.2 minutes quicker than my fastest time last year – so I'm pleased with that!  John Willacy – who had been playing on the Swellies wave in his C1 – came to see us at Gallows Point. By the time we'd finished chatting, the tide was creeping up & my car got a good splashing from the waves before we finished the shuttle and headed home!
You can see the 2012 Menai Challenge times here. There's still plenty of time & a few big tides before the end of the year if you fancy a go!