Since 2009, all Cackle TV Films are shot entirely in High Definition with a variety of cameras.
I often get asked what cameras I use to film my DVDs and the answer is constantly changing as technology marches forwards & high quality cameras get smaller and more affordable. I've always used a combination of different cameras, involving a more expensive camera that I use on land, a waterproof system that I use on the water & and a small 'not waterproof' camera that I use on the water when conditions allow!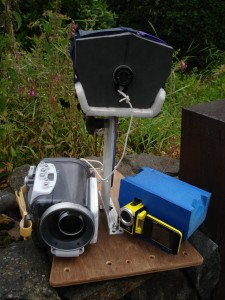 This is the Sea 1-4 DVDs were filmed  with help from a specially designed waterproof pencilcam system. With help from Tony Smith of Extreme Vision Systems, we designed a system where a pencil camera mounted on top of an adjustable pole via a suction pad mount. It's an incredibly flexible system because the pole rotates and extends and I can easily change the set-up so that the camera is really high, or really low and points forwards, backwards, sideways or anything in-between. There's a remote control which stops and starts the camera and means that I can start filming at any time no matter how rough the conditions are – I just have to take my hand off the paddle for half a second to push the red button! The pencilcam is very wide angle and doesn't have a zoom so it's ideal for close-up action shots. This set up meant that, for possibly the first time, viewers could feel like they were right there in the kayak as paddlers got trashed by waves, survived looping their kayaks, or got excited by a whale surfacing a few metres away. The original pencil cam system was designed by Tony Smith of Extreme Vision Systems while for "This is the Sea 4″ I used a slightly different pencil cam system which was designed by Chris Fenton from Dream Team TV in the UK. Chris made and designed the system based on units he's made to film powerboat racing. I had several different 'poles' to mount the camera on – mostly involving buying a monopod from a camera store, a suction pad from a hardware store and some joints and mounts for  the camera. I may return to this system if and when I can get an affordable waterproof high definition minicam.
In 2009, I started to experiment with new ways of filming as I wanted all my footage to be High Definition and widescreen ( the pencil camera system I used to use is 4×3 and standard definition). I also needed a different way of mounting cameras when I started filming open boating for the DVD "This is Canoeing". I've tried out 2 new cameras. The Sanyo VPC-WH1 waterproof high definition camcorder ( the yellow one in the photos). This is very handy to use and good value for money, although it's not full HD and I'd like it to be a bit more wideangle. I've got some good shots with it and I would recommend this camera for someone with a small budget who is going on a trip who wanted to get some reasonable quality video footage in an easy to use package.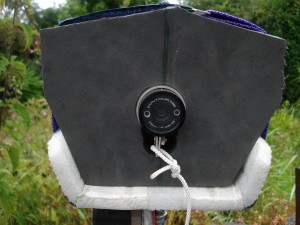 The  contour HD camera is the first full high definition helmet mounted camera and I've been having fun playing with this. I've got some great shots from it mounted on my, or other people's helmets. With the help of the design genius Clive Hartfall, I've also developed a mount for it (see the photo) so I can attach it to the front, back or middle of a canoe. The disadvantages of the camera are that you can't see what you are filming and the battery life is quite low, but with some practice (and spare batteries) you can get great shots. The camera is water resistant but not waterproof, so for the class 5 canoeing film I bought I waterproof housing for it from GMS concepts. Clive Hartfall again designed a metal sheath to go over the housing so I could attach it to a helmet or a canoe/ kayak and I got some great results with it on the Moose River.
The 3rd camera that I take on the water is the Sony DSR-HC3 ( there are updated versions of this camera but I have about 10 batteries for the HC3, and of course the later models take different batteries!). It's a relatively inexpensive camera but gives great quality footage. I carry it in a waterproof housing (the white and clear housing in the photo) but I usually take it out of the housing to film as the housing is awkward and it sometimes steams up or gets drops on the lens. I get more reliable shots and better sound without a housing, although I have killed 3 cameras over 7 years using this method! I sometimes mount the camera inside the housing on a kayak or canoe, with a wide angle lens. The mount that Clive Hartfall made for me will take all 3 cameras by mounting the smaller ones in foam blocks – it works well!
I'm always looking out for new cameras or new ways to film watersports so who knows what 2010 will bring!?