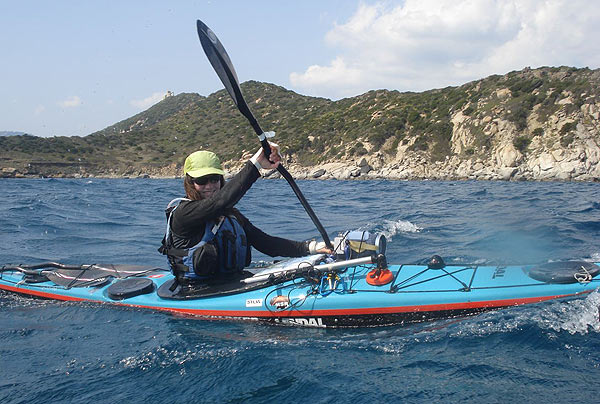 Justine thrives on expeditions – both as an explorer and an adventure filmmaker. She has 10 years experience of filming kayaking and mountaineering expeditions. Her documentaries have aired on the BBC and National Geographic Channel and won multiple awards at Film Festivals including "Banff Mountain Film Festival", "Kendal Mountain Film Festival" and the "Reel Paddling Film Festival". You can read about some of her past expeditions here.

Other Expeditions Include:
Kayaking & Climbing in the Lofoten Islands, Norway, including crossing the Maelstrom tidal race, July 2004 (featured in "This is the Sea 2″).
Kayaking across the Bass Strait, between mainland Australia and Tasmania. The 340km trip island hops across the eastern Bass Strait, with the longest crossing being 70km. This 14 day trip is featured in 'This is the Sea 4′.
Seakayaking around some of the beautiful Faroe Islands, really stunning islands, challenging tides & puffin hunting! A film of the journey is in 'This is the Sea 3′.
Seakayaking between mainland Scotland and Shetland; island hopping through Orkney, then 25 miles to Fair isle and another 25 miles to Shetland in some of the strongest tides and most notorious tidal races in the UK.
The first circumnavigation of Wales by sea kayak with Fiona Whitehead, June 2001

Kayaking 75 miles around Anglesey in 14.5 hours, April 2002

Climbing 6,952m Mount Aconcagua, Argentina, February 2001

Solo Seakayak Circumnavigation of Iceland's West Fjords, August 2002

Kayaking with an award winning wildlife photographer alongside humpback whales in Alaska, Sept 2001

Sea Kayaking to Orkney & climbing Old Man of Hoy, September 2003

Cycling across the Pyrenees mountains from coast to coast, 1999

Trekking in the Nanda Devi region, Indian Himalayas, November 2000

Sea kayaking from Jersey to Alderney to see the total eclipse of the sun, 2000