I'm a cover girl this month in the on-line Paddling magazine, the Paddler. Well, I'm one of their 4 choices. You can chose your flavour as the magazine covers sea kayaking, whitewater, SUP and caenoing.
It's a free on-line monthly magazine that you can read here. The current November issue has an interview with me, and lots of nice pictures.
Don't forget, we have a selection of 16 different DVDs in our UK/ Europe webstore (10 in the US/ Canada store), plus sea kayaking cards, orca print wrapping paper, the best paddling map cases on the market IMHO and a few copies of one of Paul Caffyn's books. We're also thinking about making a sea kayaking calendar. Are you interested?
I'm excited to share "Fundy Fun" – a film about the dynamic waters of the Bay of Fundy – home to the world's largest tidal range.
I was lucky enough to go there in September while attending the BOFSKS and put together this film of the eye-popping Walton Wopper, the smile-enducing chocolatey waves of the Shubie river, the endless line of waves off Brier island, and two inquisitive humpback whales who kept coming up to our kayaks off Long island.
I'm doing a bit of an experiment with this film – it's for sale in my webshop – but YOU can chose the price that it's worth to you. I'm hoping that this will lead to a lot more downloads and a lot more people seeing the film. I know there's a lot of "free" content on the internet these days so it's harder for people like me to 'sell' films. So here's hoping that if you want to see the whole film, you'll download it and watch it, and throw a contribution into the hat. I had to set a 'nominal price' for the film so I chose £4.99 – but if you check out, you'll see you can put your own figure in there. Anything goes!
Thanks to Jaime Sharp and Chris Lockyer who provided quite a bit of extra footage. Jaime got the amazing underwater whale shots. Matt Nelson & Rob Avery also took some shots. These guys are joined on the water by Paul Kuthe, Sean Morley, Nick Cunliffe, Ryan Rushton & others who all feature on screen. Thanks to Chris & the rest of the BOFSKS committee for getting me over to the event and Valley Sea Kayaks for contributing to my travel costs. The symposium is running again in 2014 if you're sold on paddling in this amazing area!

At the end of this week – 14th-17th November – is the Kendal Mountain Festival - the annual showcase for the best of this years outdoor and adventure films. I'm delighted that the 40 minute film I made about Sarah Outen kayaking from London to France and from Russia to Japan is showing as part of the 'Wild Water' film session. This can be seen on Friday from 1-4pm, on Saturday between 9-12am and 1-4pm, and 4.30-7.30pm on Sunday. There are of course, lots of other climbing, mountaineering, biking, skiing and adventure films showing, plus some great speakers. You can buy a film pass for 1 day or for the whole weekend.
In addition, on Saturday from 3.30 – 6pm is the KEEN wildwater session, which is a mixture of films and talks held in the Town Hall. I'm excited that Eric Boomer is the main speaker – an adventurer who has done amazing whitewater trips and waterfall descents and also completed the first circumnavigation of Ellesmere island with Jon Turk on skis and by kayak. He's talking about his recent gruelling 65-day expedition across Baffin Island, covering over a 1000km by kayak, ski and foot. He and his friends used traditional Inuit-style kayaks that they built themselves. One of the other team members Canadian polar adventurer Sarah McNair-Landry is also presenting with Boomer.
Both Sarah and I will be at the festival. We'll be at the KEEN session on Saturday where they are also showing a shorter version of the film about Sarah. We'll be able to answer questions in the interval if there are any. Tickets for this session are £12.50 but if you are a member of the BCU then they are £10 – you need to find out the code to give at the box office.  We'll try to get to the other sessions where the film is showing and introduce it.
If you can't make Kendal, then you can buy the film on "This is the Sea 5″ DVD, or as a download.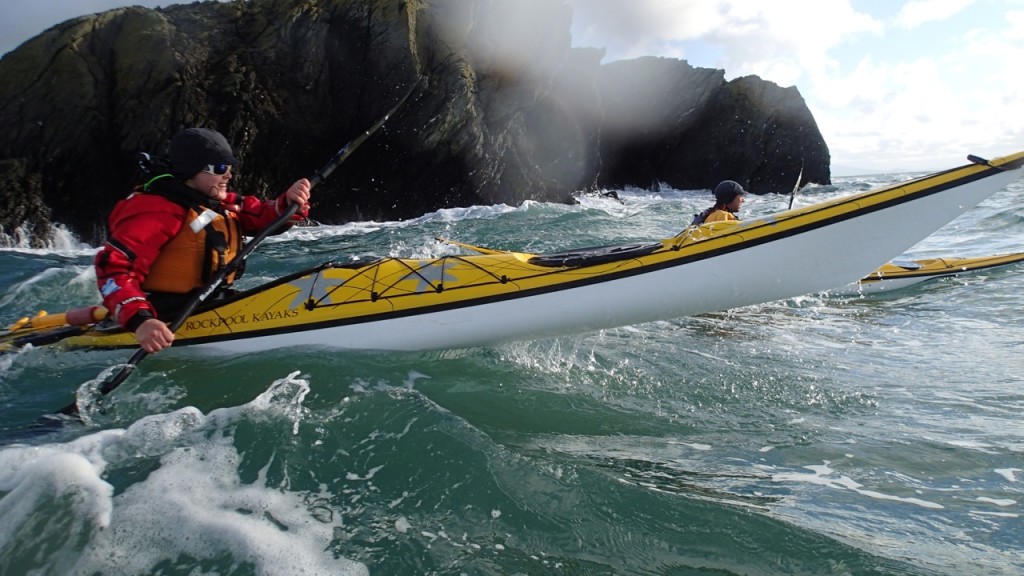 Talking of Sarah, she's just been in Wales for almost a week doing some kayak training for our next big kayaking adventure. As part of her round the world loop, we'll kayak about 1400 nautical miles along the Aleutian island chain from Adak  to Homer next Spring/ Summer. It will be really challenging 2-4 month trip so we are preparing mind, body, kit and logistics as much as possible. We are in touch with locals and people who have been to the area but any help/ information is welcome!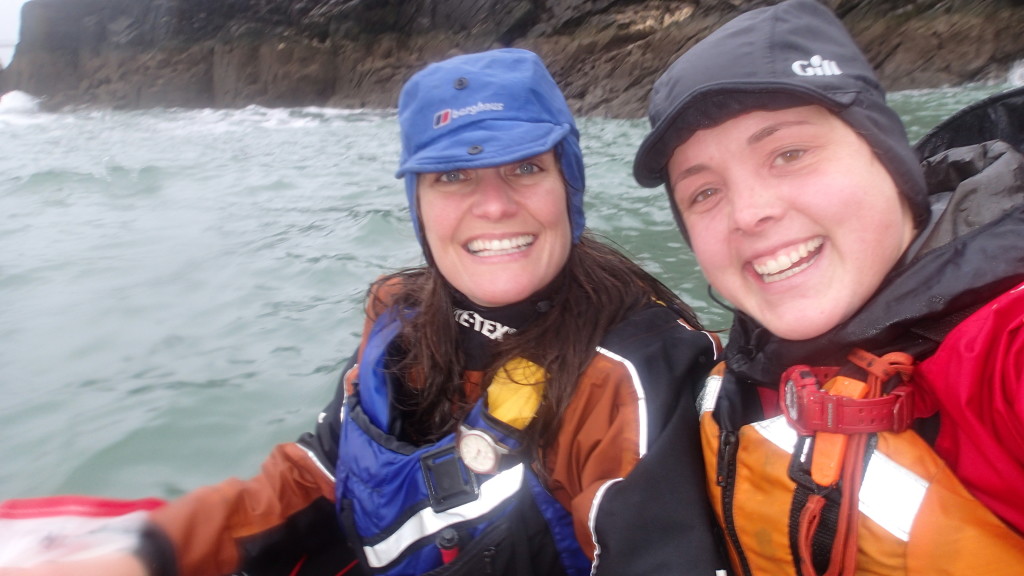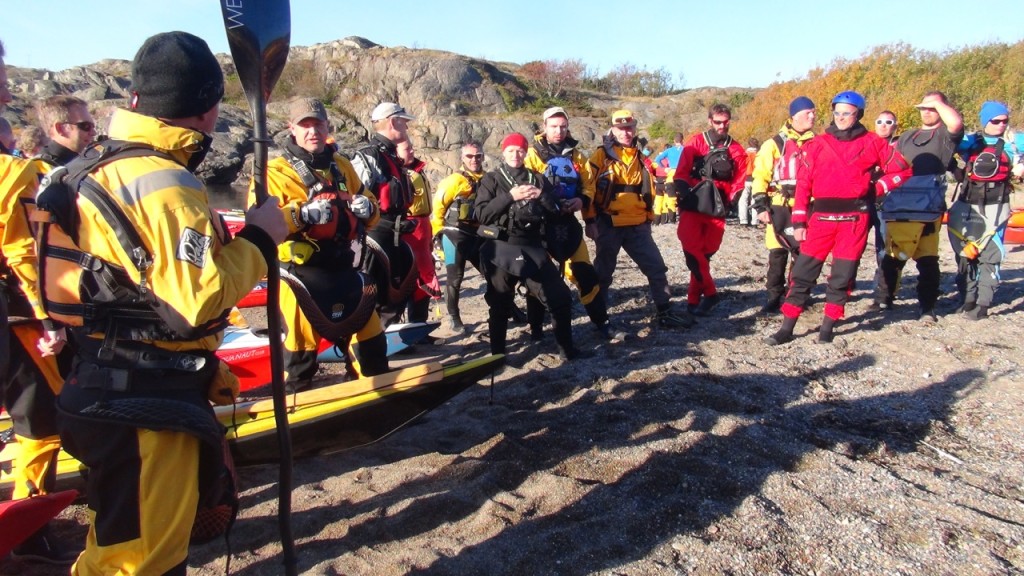 It's been a busy few weeks. I attended a sea kayaking festival in Southern Norway, Bølgefestivalen, organised by Kajakkentusiesten.
As well as nice paddling amongst islands, we had a great outside BBQ.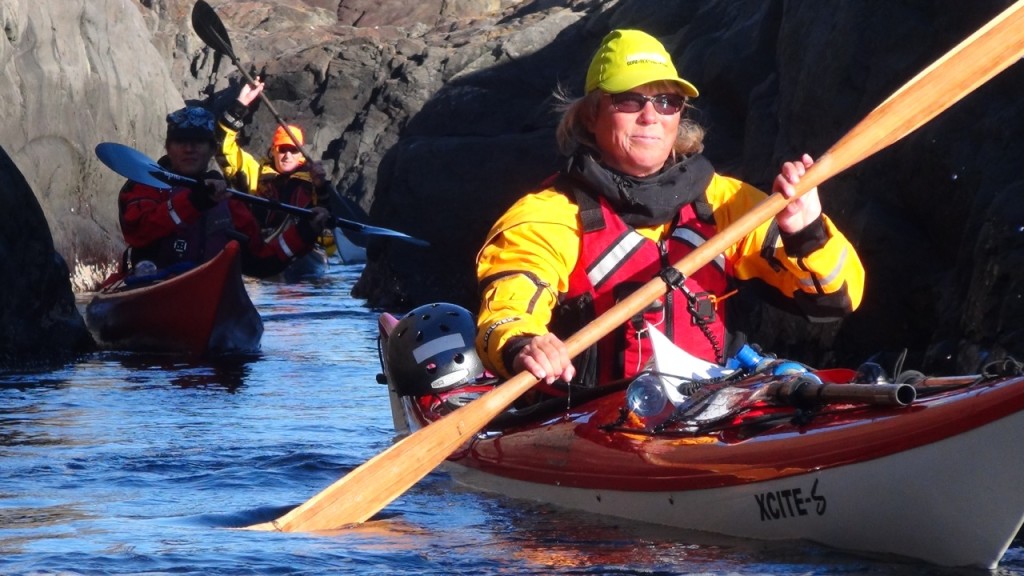 I attended the Dijon Adventure Film Festival where "Tierra Del Fuego" was a finalist. I really enjoyed my first visit to Dijon, which is a charming little town. I was staying in a hotel right next to the train station, and across the road from the town's 2 cinemas. Trams and stylish people cruised by. The organisers and other film makers were really friendly. The festival format was great. All the films were 52 minutes long and they invited the film makers and/ or stars onto the stage for 10 minutes afterwards to answer questions. Thanks to Paul Evrard for the photos.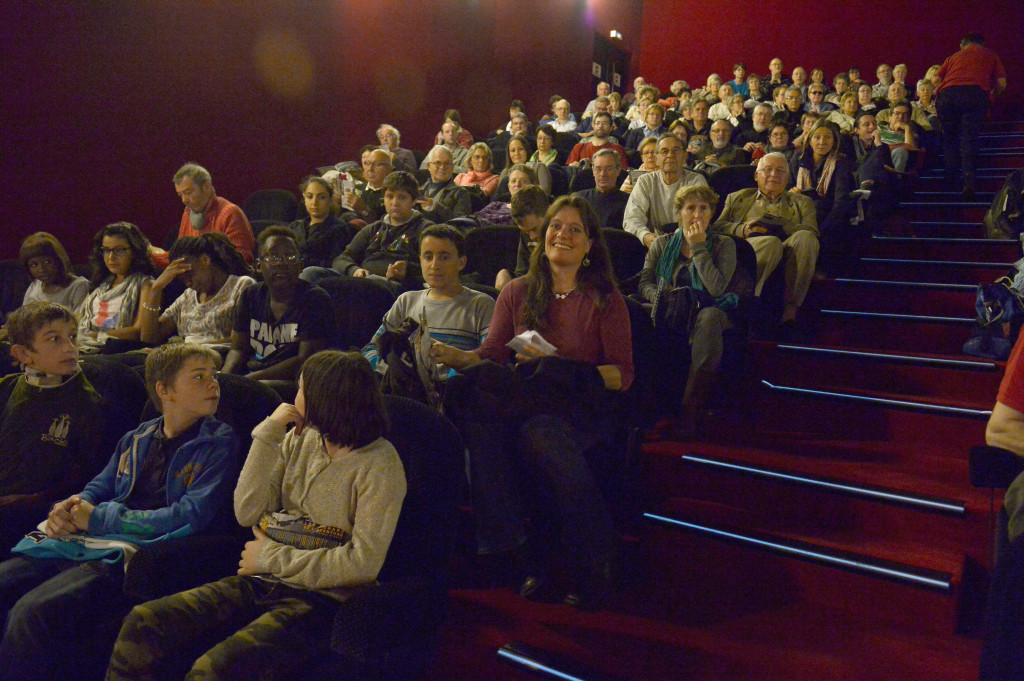 "Tierra Del Fuego" is also a finalist at the 25th International Graz Mountain & Adventure Film Festival between November 12-16, in Austria. My "Sarah Outen" film is a finalist at the Kendal Mountain Film Festival the same weekend from 14-17 November. I think the film will play 4 times although the programme is still being finalised. Both Sarah and I will be there to introduce the film.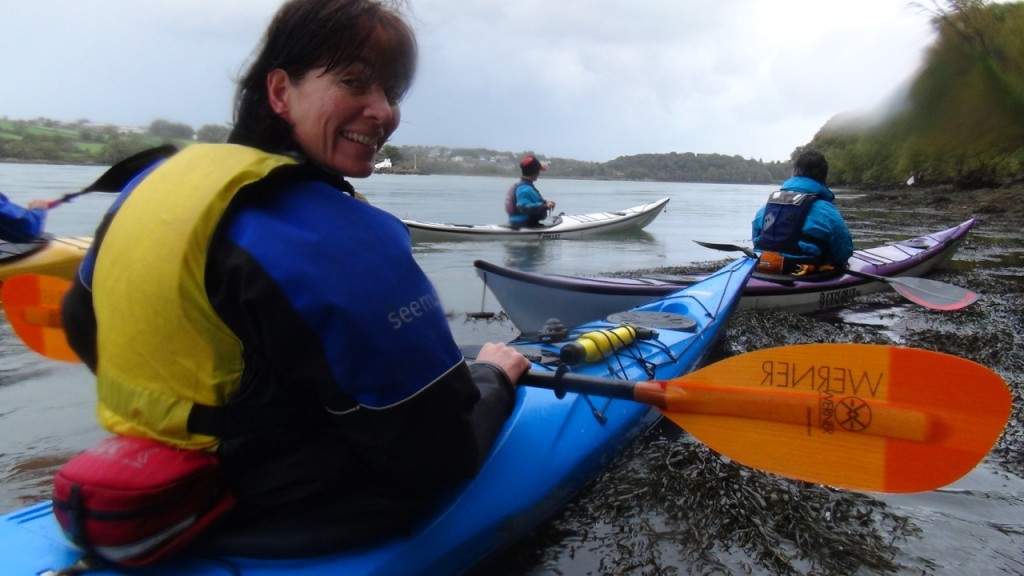 I worked at the Anglesey sea kayaking festival which was great fun despite too much wind to be useful! This photo is from the "Open crossings" day! It was far too windy to go to the Skerries so we crossed to the island of Anglesey many times… across the Menai Straits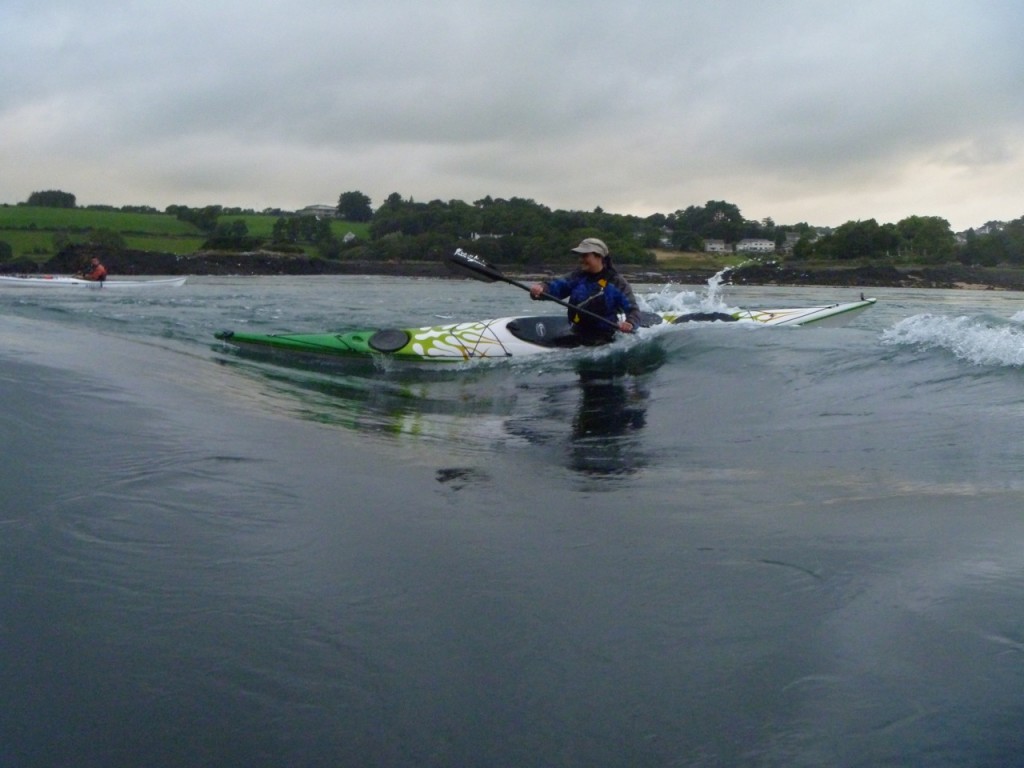 There's been less time than normal for getting out paddling just for fun.. but we've managed to few outings. These photos were taken by John Willacy on the Swellies wave – thanks John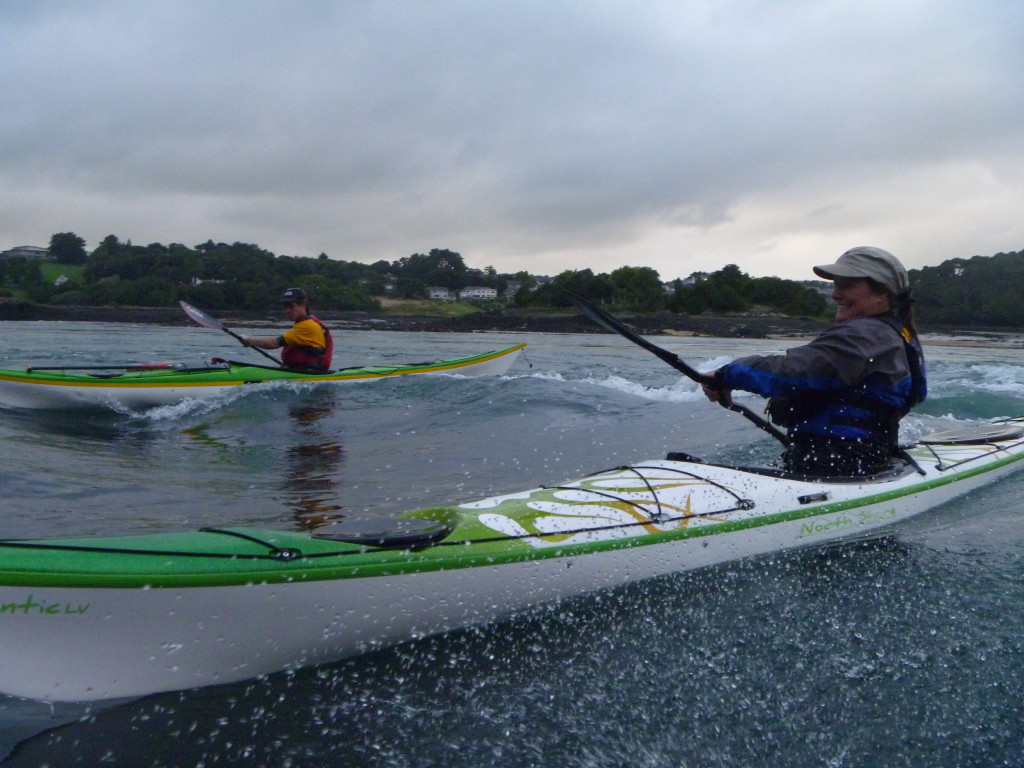 And yesterday Barry and I went on a fun downwind run in a 35 knot blast down the Menai Straits.