I had an amazing time sailing and kayaking in Antarctica in 2014 so I'm really excited to be going back in December this year for another trip aboard the "Spirit of Sydney". There are spaces for 6 kayakers, plus me the skipper and 2nd mate. It really is a trip of a lifetime where you'll sail from Ushuaia to the Antarctic Peninsula, explore the stunning landscape & incredible wildlife for 2 weeks, before sailing back across the Drake Passage. There's the chance to go on overnight trips, camping on the ice and having your own little piece of paradise to ourselves. All food and drink is included in deal so you don't need to worry about shopping.
I've just put together a short video of some of the highlights of my 2015 trip which I hope you'll enjoy.
The dates are 25th November to 20th December 2015.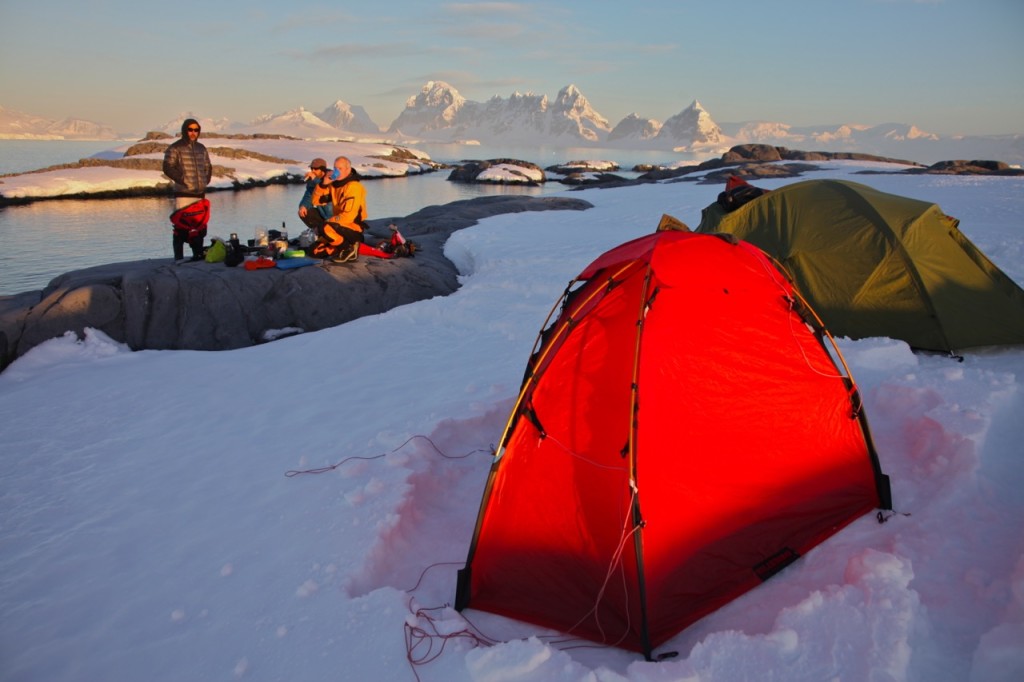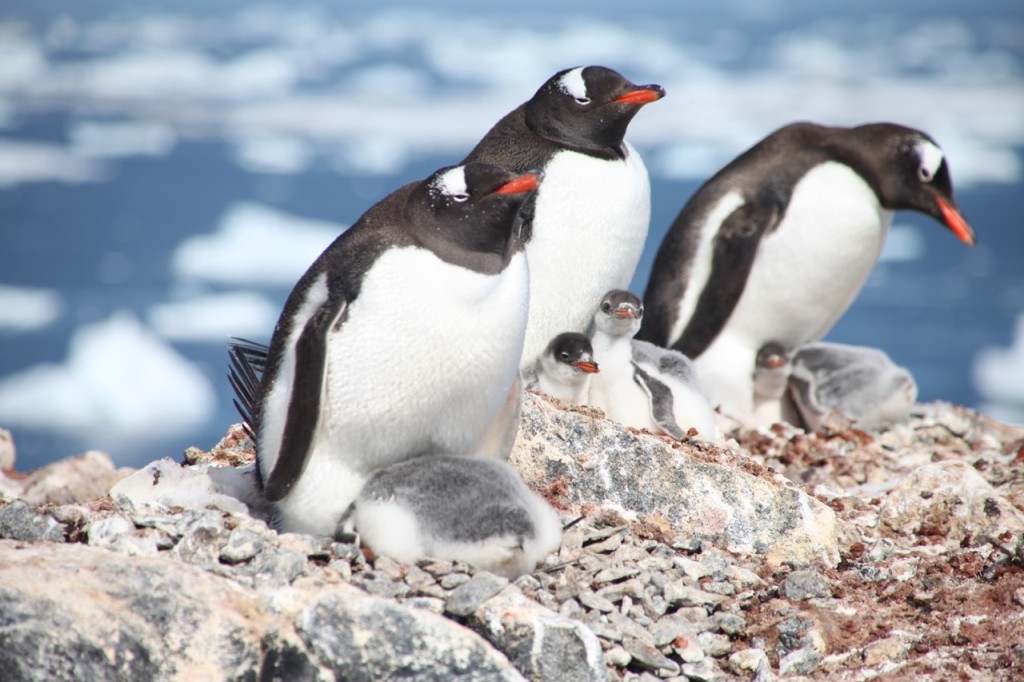 Baja – here I come! I'm about to head off to circumnavigate Isla Angel de al Guarda – the 2nd largest island in the Sea of Cortez with Ginni Callahan, Santiago, Ramon & Dick. It will be a welcome change after over 30 "Kayaking the Aleutians" Presentations in the last 5 weeks. I've been trying to catch up on emails and my to-do-list today before disappearing from internet access for 2 weeks.
Firstly…. the film has now won 4 awards which is really exciting!
Best Film at the German Kayak Film Festival
Best Sea kayaking film at the Waterwalker Festival
Best Adventure film at the Waterwalker Festival
Best Kayaking film at the Llanberis Mountain Film Festival.
I was on TV in Toronto talking about it – they spent longer plastering me in make-up than interviewing me but my family think I'm famous now I've been on TV!
There have been quite a few reviews of "Kayaking the Aleutians" that have come out – all of them good!
Award-winning Bushcraft instructor Paul Kirtley has just recorded a podcast with me about the film which you can listen to here.
Global Grapevine caught up with me at the Adventure Travel Show and have published an interview about technology on adventures here.
I finally met the friendly John Herbert & Louise in Victoria. They reviewed the DVD on their blog KayakYak here and just for good measure put up a post about my talk at Ocean River Sports.
Canada's Mountain Life Magazine reviewed the film here. Mark Rainsley was surprised I asked him to review it and surprised that he wished the film was longer.
Kevin Callan's daughter Kyla gave the film a big thumbs up on the Explore Magazine blog, with her only fault the fact that we swore in it, although she added that she would have sworn as well if she'd been there!
The Bristol Bay Times published a more detailed story about how the Aleutian communities touched us on the journey.
Tatiana from Italy thinks this is my best film yet.
Adrenaline.no gives the thumbs up in Norwegian here.
If you haven't seen "Kayaking the Aleutians" yet, you can buy a download here.
If you are in the UK, Europe, Australasia the DVD is available here.
For North America, South America & Japan, the DVD store is here.
The DVD (and full download) contains a 55 minute version of the film AND a 70 minute Directors cut, plus 4 bonus films from the Bay of Fundy, Wales and Tofino, Canada.
And you can see James Roberts' film about kayaking in Greenland last year for free here (or play it below). I toured with James & his wife Dympna for a week and it was great fun. I really enjoyed James' film, edited by David Hartman, despite watching it 5 times in 5 nights!

OK, the island is calling and I must go……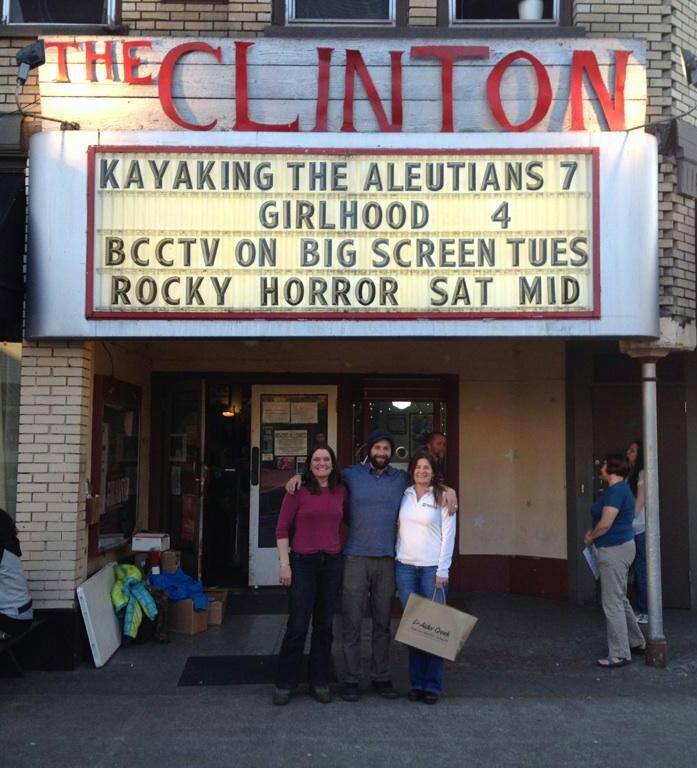 The sun is shining in Chicago – I like to think I brought it with me from the West coast

I'm 3 weeks in to a North American tour with the "Kayaking the Aleutians". Time has flown by with visits to the Toronto Outdoor Show, Deep Cove Outdoor's in Vancouver, Ocean River Sports in Victoria & The Mountaineers in Seattle. My hair was authentically wet and salty for a presentation at San Francisco's Bay Centre after  I got the chance to paddle from Rodeo Beach to Point Bonita with Sean & Gina Morley and friends. Sean had allowed time to paddle and eat, but not to shower – good priorities I think!
I was treated like a princess with a house overlooking Trinidad harbour on one side and Trinidad's surf beach on the other side at the first US Storm Gathering organised by Greenland or Bust. The hot tub with the same view and the delicious fresh & local organic food set the tone for a great 3 day event where I was able to paddle with happy paddlers including Nigel Foster, Bryant Burkhardt, Jeff Laxier, Roger Schuman & Bill Vonnegut. Bryant has written about the event here. And Paul Kuthe wrote a blog for Kokatat here. There was a flare shoot off organised by the coast guard, a helicopter rescue demonstration, free beer from Kokatat & Thule which may have helped my presentation about my Aleutians adventure go down well! I also got the chance to look around the Kokatat factory and was impressed by how many people are employed there making the kit that I trust and love.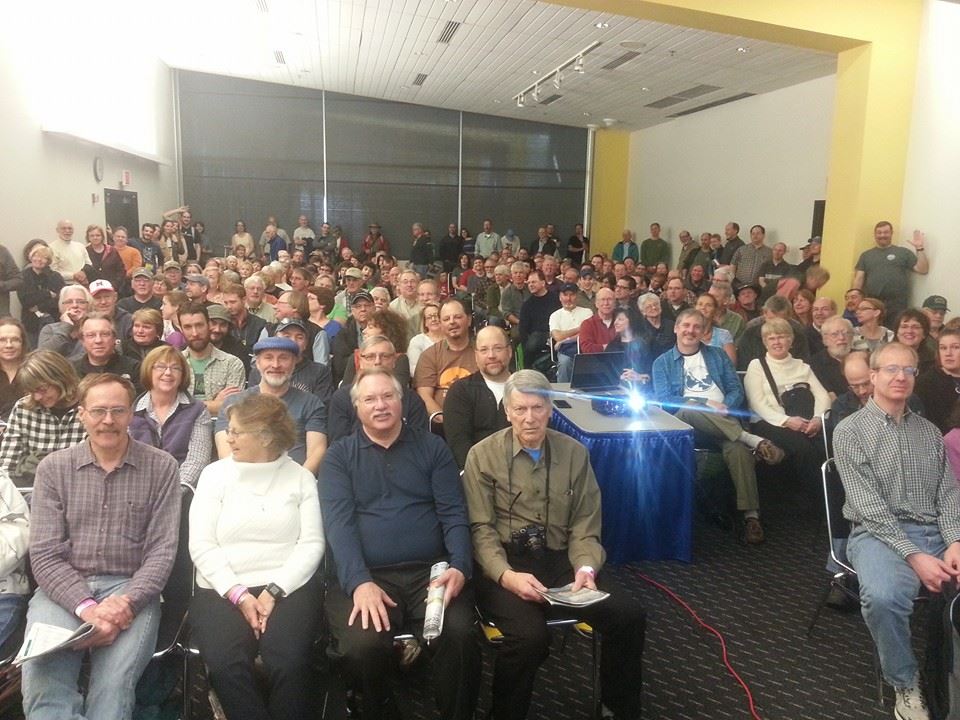 The Clinton Theatre's claim to fame is that it's been showing "The Rocky Horror Picture Show" since 1978. Last week the Portland venue also hosted 'Kayaking the Aleutians'. I've seen one of my films up in lights a few times before and it's always really exciting. Thanks to Seth for driving us from Trinidad to Portland and then up to Orcas island where I enjoyed a day catching up with great friends at Body Boat Blade. 
The world's largest paddlesports show, Canoecopia lived up to it's name last weekend with 3 busy days with thousands of paddlers heading to Wisconsin to get excited about the ice melting and upcoming paddling adventures.
I'm on a road trip with James & Dympna from Ontario Sea Kayak Centre for the next week, showing 'Kayaking the Aleutians' and James' film about going to Greenland to compete in the Greenland Kayak Championships and learn about the culture. Both films have won 3 awards now so it's sure to be a great night of entertainment and fun.
Check out the tour schedule here.
We've seen lots of great reviews of "Kayaking the Aleutians" on the internet and magazines. Do a search or look out for a later blog listing the ones we have found.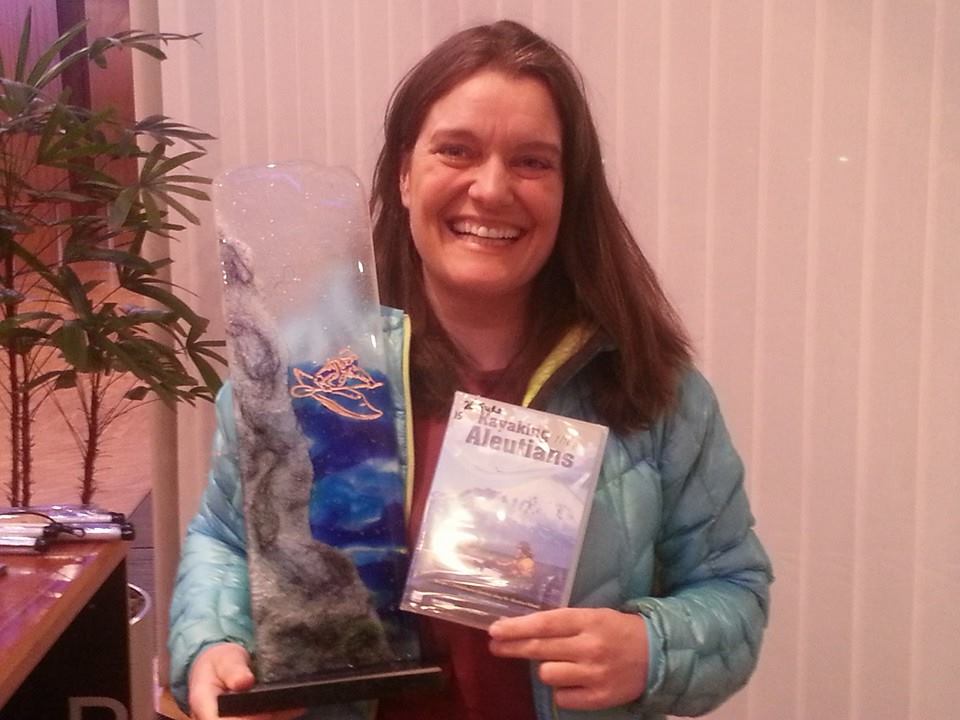 I'm delighted that "Kayaking the Aleutians" won "Best Film" at the 2015 German Kayak Film Festival last night. 
About 300 people watched the selection of films, including the world premiere of our Alaskan adventure. Afterwards the organiser, Olaf Obsommer, called me to the stage for a short interview. Next the judges stood up to talk about the films and announce the winner. They were talking in German of course so I couldn't understand what they were saying. It was only when there was a pause (perhaps when I should have been coming back to the stage) and Olaf beckoned to me that I realised I had won.
It was a fantastic 4 month adventure in such a beautiful part of the world with a tough, funny woman, generous locals, amazing wildlife and more than our fair share of challenges. I knew I had the ingredients of a great film, so I'm glad I didn't mess it & I'm grateful for all the help from people on the trip, and friends back home who watched the developing film with me and suggested changes.
All DVD orders are now shipping and the downloads are  being downloaded!
The first reviews have all been really positive. Simon Willis said "Quite simply, it is the best yet from Justine Curgenven….  There's nothing false about the jeopardy here….This film has content.  In bucketfuls" – read his full review here.
Meanwhile, a tour is shaping up nicely for "Kayaking the Aleutians" in America & Canada visiting Toronto, Vancouver, Ottawa, Montreal, Seattle, San Francisco, Portland,  Chicago, Detroit, Kitchener, Rochester (NY), Maine, Connecticut, New York, San Diego, Canoecopia, Jersey Paddler, the U.S Storm Gathering in Trinidad, California & the Bajakayak fest. Click here for more details.
As I write this, I'm taking the rough with the smooth! I'm spending the day in Munich airport after a flight mix up! But on the positive side, they have free wi-fi and I've just seen people walking past with a delicious looking ice-cream which I think merits further investigation!