You never quite know whats going to happen on a circumnavigation which is one of the things I love about it but if anyone had told me we would end up staying in two of west corks finest hotels and going paddling with journalists from vogue then I wouldn't have believed them. Yet here we are.
I've met jim kennedy briefly at symposiums in skye and jersey and knew he was a prominent kayaker who had won the devises to westminster race and been british champion in sprint kayaking but I didn't expect him to welcome us with such broad open arms.he arranged for us to stay a night in the wonderful inchydoney spa hotel then when barry started feeling ill, he arranged for us to move to the equally impressive West Cork hotel right on the river in skibbereen. It is possible to paddle right from the hotel lobby to the open sea at baltimore..barry is still feeling a bit rough and needs to be close to a bathroom so its a luxurious way to recover. The rooms we are in are amazing with loads of space to spread out the contents of our ikea bags and an ornate free standing bath.this is our second day off paddling but weh are hopeful that barry will be well enough to start again on thursday or friday. Theres a possible weather window to get round one of the cruxes mizen head on saturday or sunday so dinners crossed that everything works out.
In the meantime roger and I went out to help jim s company, atlantic sea kayaking, to take out some Portugese journalists from magazines like vogue, and a national newspaper. I paddled a double with an attractive lady in a skirt, rights, heeled boots and designer subleases! WE all had a lot of fun! And aside from that, my body is glad of a break from thousands of paddlestrokes every day and we are getting to chat with jim and seeing a bit of the beautiful Cork countryside.its a lovely area for paddling our just sightseeing.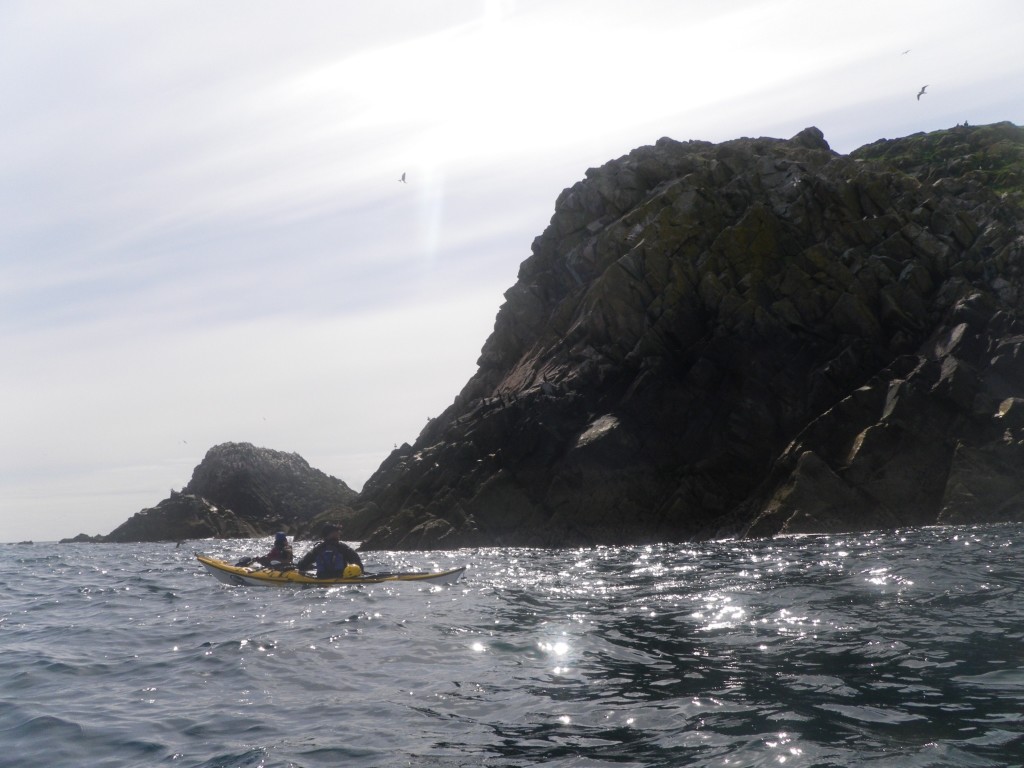 My trousers are straining as I try to finish the sea food platter and guiness at the luxury inchydoney lodge.it doesn't sound like expedition paddling but it is today! Paddling legend jim kennedy of atlantic sea kayaking arranged for us to stay here for a night which was a fantastic surprise and treat.its a gorgeous lodge and spa right by a sandy beach which has a warm seawater swimming pool, friendly staff and gorgeous rooms.
we have paddled every day for the last nine days since we started the trip and we have covered just over 200 nautical miles. I feel surprisingly good,i have recovered from my bout of illness and seem back to full strength although my back is a bit stiffand I have started to look forward too a bad weather day when we can rest and chill.on the other hand it would be great to get around one of the cruxes of the trip, mizen which is about 2 or 3 days paddle away. It looks like we are due stronger nw winds on weds y get stuck this side of the mizen.
The south coast had between varied in scenery but always interesting.there arr a lot of stripey cliffs full of arches, caves and surprises.the most spectacular is the 100+ metre tunnel underneath kinsale head.we knew it was there but it took a while to find the shaft of light in the distance that gave it away.very cool.
We have done a mixture of coast hugging and crossing from headland to headland.yesterday was pretty calm so we did more point to point paddling. It was also the day of the daddy long leg. Hundreds of them floated on the see surface, some alive, some upside down and past their best. Today a fresh nw wind encouraged us to stay in close.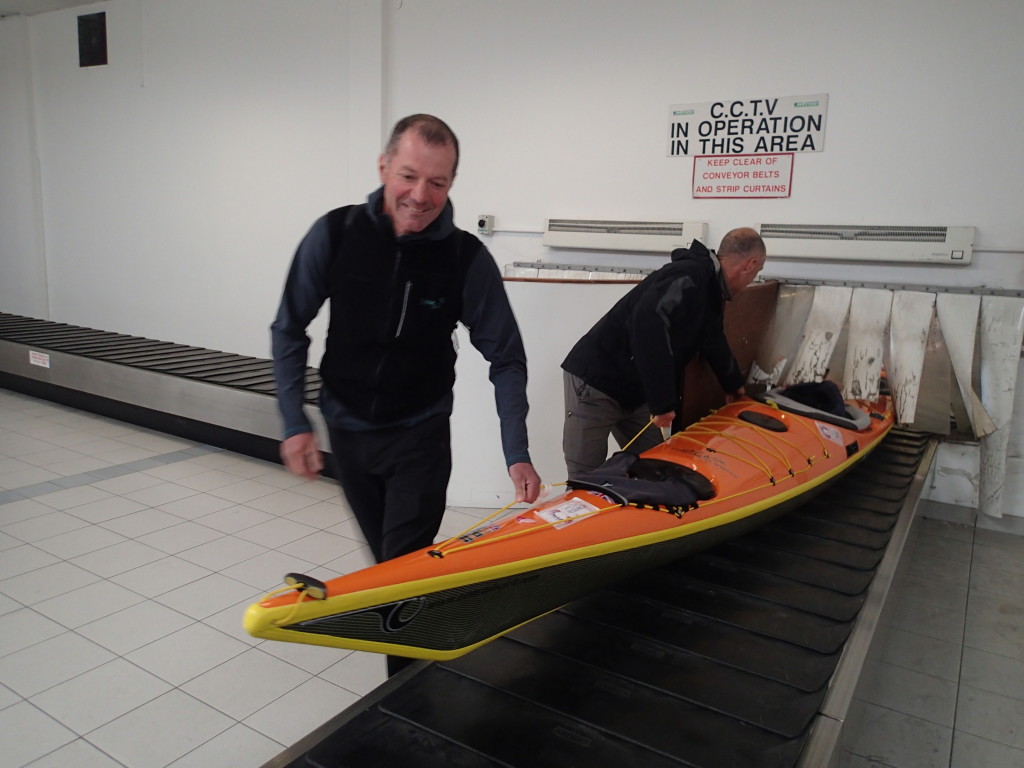 Wow, 5 days has gone really quickly but we've also seen and done a lot. I was pretty weak and couldn't hold my food in for a couple of days but long sleeps and a short day seemed to fix me up. Either that – or the fish and chips I devoured yesterday at Kilmore Quay did the trick. We'd been told it was one of the best chippies in Ireland so it would have been too rude not to partake! And it was yummy.
The first few days were quite blustery – mostly a side wind blowing us offshore so we could stay in close out of the worst of it at times – and our skegs all worked well to keep us on track when we crossed bays, or paddled out further to make the most of a favourable tide. It certainly blew the cobwebs away.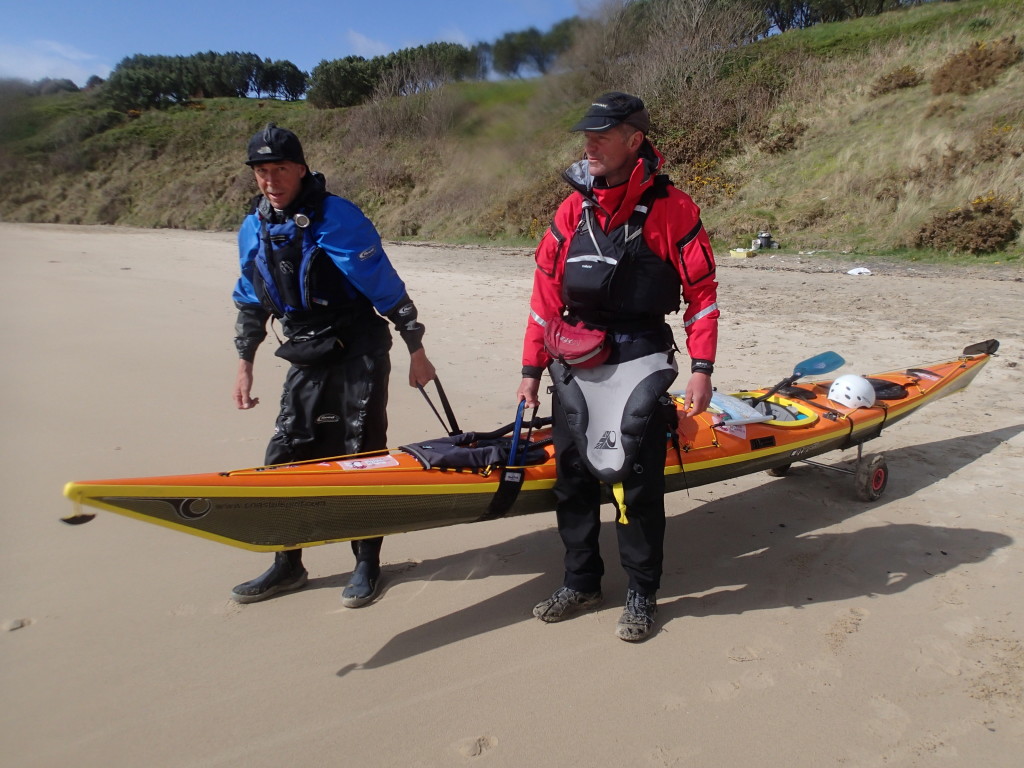 The east coast of Ireland has been beautiful with long sandy beaches, a rocky headland or two and more long sandy beaches. Giant wind turbines are common sights – as are giant dogs. We've seen a few four legged friends that could have been mistaken for bears.
We're now on the South coast which so far is rockier  with a few coves and beaches here and there. It's beautiful too. We made a welcome detour out to the Saltee islands yeterday to admire some of Irelands' best bird colonies. Hundreds of gannets sat on white patches on rocks or soared magnificently above us, which razor bills, puffins, gullimots, cormorants and allsorts added to the general buzz and soar of birds. wonderful.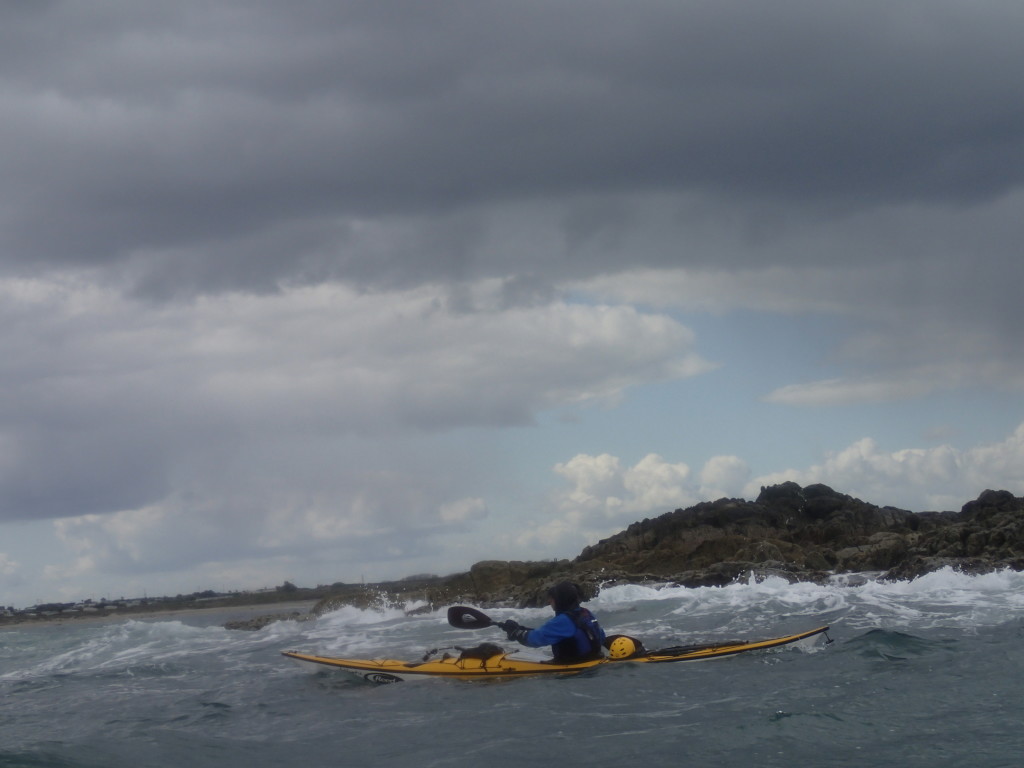 Yesterday was a welcome treat. We had a message from local paddler Mick O'Meara, who has himself paddled around Ireland and across the Irish sea. He invited us to stay for the night and cooked up a mean chicken caserole with good irish spuds. we stayed up far past our bedtime sharing stories and laughing. He runs a sea kayaking business in Tramore on the South coast of Ireland called Seapaddling.com
I am trying to upload photos to facebook every day when I get a 3G signal – it's easier on my phone baterry and works much more succesfully than using my blog (which tends to not work). You may be able to check my facebook page by clicking here, even if you aren't on facebook.  Roger is writing daily blogs so check out here to read those. His partner Sonja is copying my facebook photos and putting them into Roger's blogs so that could be a one-stop place for you to go.
Ok time to get a lift back to the water with Mick. thanks again Mick and Uma for grand hospitality.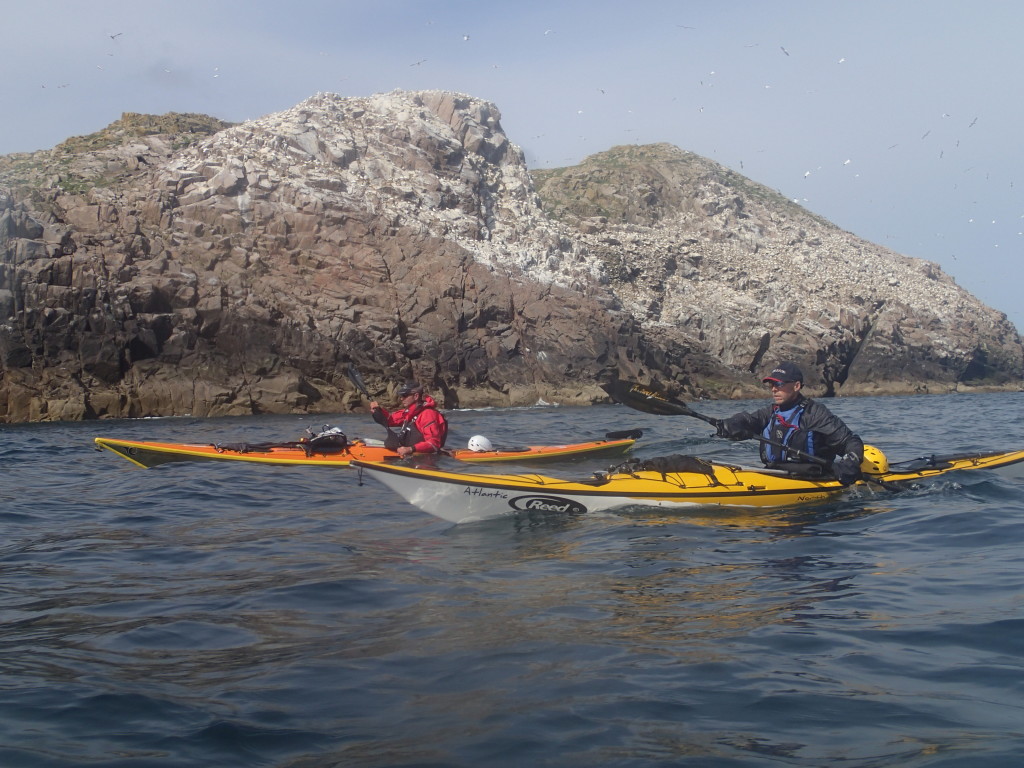 Sunday 12th May – we hope to start paddling south around Ireland from Dun Laoghaire.
We have a map on Spot that you can see here – click here for the map.
It might only show the last 7 days activity.
I'll be trying to update my blog regularly – although I've discovered today that uploading a photo to facebook uses a lot less of my limited phone battery power than writing a blog so I'll probably be putting photos on facebook more often.
Roger will be updating his blog – see http://www.coastalspirit.com
I've created a SPOT adventure page – but I'm not sure I've done it right – but I hope to have time to improve on it. The link is here
Thanks to Des and Sonja from Deep Blue Sea Kayaking for putting us up at the start of the trip and to Eddie and Conor for picking us up from the ferry.
It's exciting to be on the cusp of a new adventure. I'll improve on the communications as I go along!