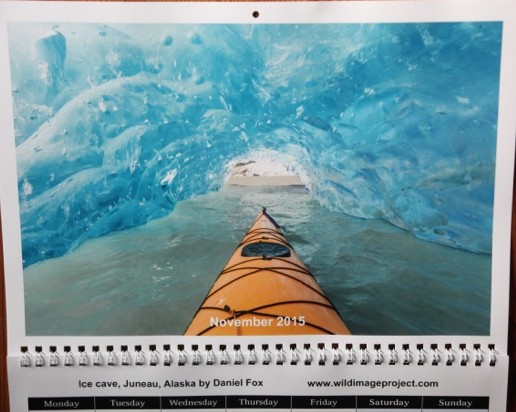 We don't think there is a 100 % sea kayaking calendar out there at the moment to give a daily fix to sea paddlers, so we've made one. At Cackle TV, we're excited to announce a calendar packed full of 14 fantastic sea kayaking images. The 2015 calendar captures the beauty of wilderness destinations, the excitement of dynamic water and the magic of wildlife encounters. Destinations include Antarctica, Alaska, Patagonia, Wales and Kamchatka, with guest photos from wildlife photographers Daniel Fox and Ben Porter. Enjoy a different photo every month, and keep your favourite pictures.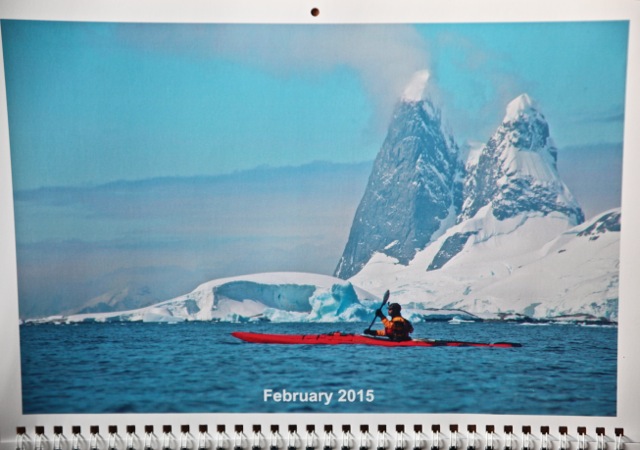 The calendars are a booklet with a photo on one page and the calendar on the other page. They are A3 size when opened up & A4 size when closed. We have a limited number of calendars for sale and have already sold one third of them.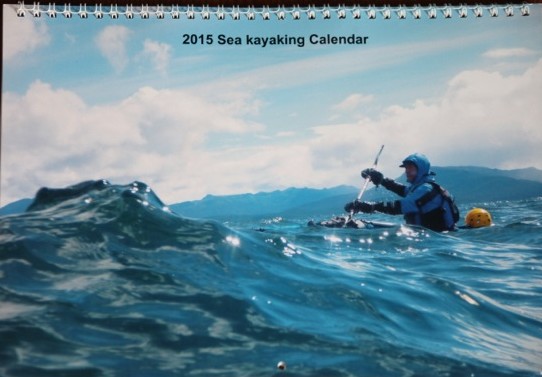 Click here, or on a photo to go to the store for more information. We also have some amazing deals on DVDs this Christmas – from just £4.98 each if you are in the UK / Europe / Australasia, or from $4.95 each if you are in the US/ Canada.
I've been back in Wales for 6 weeks already. Time has flown by, yet I can measure it by events – I became an auntie, I've had some fun days out in my favourite tidal races and paddled over to my friends on Bardsey island. My Alaskan photos have been sorted – look out for some in the November edition of Canoe & Kayak magazine as they're running an article about the trip. They already ran a story on their website which you can read here. I've trawled through dozens of hours of Alaskan video footage and cut the 101 day journey down  to the best 150 minutes. There is some great stuff in there and I have the beginnings of a first edit. Simon Willis recorded a 30 minute audio interview with me about the trip that you can hear here.
I'm expanding the CackleTV webshop. I've made a sea kayaking calendar which should be on sale next week, and started stocking reflective tape  to make your kayaks, paddles or vehicles more visible in the dark.
On 25th and 26th October, I'll be at the Scottish Canoe Show in Perth. I'm giving a talk on Saturday at 3.30pm about 'Paddling the world' and one on Sunday at 2pm about paddling in Alaska, including the first preview of video from the trip. I also have a stand at the show with Carol from Gael-8. Carol will have t-shirts and hoodies for sale, I'll have good deals on DVDs, as well as a range of Pesda Press and Rivers Publishing books, reflective tape, Sea kayak calendars and cards and some of my favourite healthy and tasty snacks. The Scottish canoe show is in the Dewars Centre in Perth for the first time, there are demonstrations in the pool and a chance to have a go yourself and entry is FREE to the show and all the talks. Why not come along?
For Dreamteam TV, I filmed on the Sandman and Snowman triathlons in Wales, and I've been testing out a 'slow motion' feature on my camera in the surf at Rhosneigr – see the video above. I'm excited to play around with that some more if we get better surf!
I'll be releasing the Alaskan film on DVD and download in the not too distant future – although it will probably be March 2015. I hope to go on a bit of a tour with the film after that.
Meanwhile, there are some great deals on DVDs in my webshop - you can buy both 'This is the Sea 3′ and 'This is the Sea 4′ for just £14.99 or $29.95, and buy one, get one free on 'This is Canoeing'.
We did it! Sarah and I landed on Homer spit at 8.30pm after 101 days paddling along the Aleutian island chain and the Alaskan peninsula.
The stats – 1350 nautical miles which is 2,500 km or 1,550 statute miles. We paddled 64 of those days and had 37 days on land.
The important stuff – we had a great adventure with so many wonderful memories. New friends, new experiences and new possibilities
I've recently arrived home to Wales with a inner warmth and calmness that always comes after a wonderful wilderness journey. Many of my muscles are a little tight after 101 days of paddling, camping & being on the go, but my face is relaxed and the corners of my lips are hooked up into a permanent faint smile. I have so many  happy memories, from watching hundreds of mother otters swimming on their backs, clutching their babies close to their chests  to jumping between the driftwood logs along a vast empty sandy beach as the last of the sun turns the sky pink. Some of the paddling was really committing and we didn't always know how long it would take us to buck currents and reach land. Other days were calm and sunny bimbles along skyscraper cliffs, brimming full of nesting birds.
The highlights are too many to list, much of the joy was in the simple fact that every day brought new scenery and experiences and life was boiled down to the basic pleasures and necessities of food, safety, shelter and living in the now. A naked Sarah coming face to face with a curious brown bear while washing in a stream, bbqing fish in the embers of a driftwood fire, washing off the grime and sweat in the  delicious heat of a hot spring, being woken up at 4am by 3 sea lions hauling their giant bulks ashore besides our tent….. these memories and more help make this one of the most special trips that I've made.
It's satisfying to have completed a long journey through challenging waters. We don't know of anyone else who has blazed the way before us so it was exciting (and at times a bit nerve wracking) to discover the conditions for ourselves, figuring things out along the way. While there are small communities dotted along our route, I felt happy that there is still such a large swathe of mostly untouched wilderness up in Alaska and lucky to have spent over 3 months weaving our way along her shores, watching her burst with life during the short summer season, and seeing the landscape turn from the treeless, rocky volcanoes of the Aleutians to the lush, green spruce-ladden slopes of Kodiak. I hope that the inaccessibility and lack of log-able trees helps keep this special wilderness wild in the future.
We visited 8 of the 10 communities that are scattered along the Aleutians and the Alaskan peninsula. Twice we needed to cover 250 miles between villages.  The research vessel, Tiglax, invited us on board for showers and breakfast as they passed us on their way to and from the western Aleutians. Closer to Homer, we spent 2 days recharging at both the amazing

Hallo Bay Bear camp

and the remote Blue Fox Bay Lodge. It was a privilege to meet so many wonderful, kind people who welcomed 2 tired and hungry travellers into their communities with open arms, good stories and some great food!
There are short stretches of road in all the habitations but the only way in and out is by plane or boat so the people who live there chose to exist close to nature and appreciate being able to harvest much of their food from the land. Delights we sampled included sea lion soup, smoked salmon, baked halibut, reindeer bolognase and sea urchin eggs slurped straight from the shell.  Ironically, the modern tool of facebook will allow me to continue to watch these new friends as they catch salmon, harvest berries and beachcomb for glass balls.
There were a few challenges to Sarah and my friendship having spent 24 hours in each others company for close to 4 months. I've been sea kayaking longer and we have different paces, and sometimes different ideas about how we should tackle a day's paddle or a section of coastline. It's a testament to Sarah's positive attitude, sense of humour, forgiving nature and amazing strength of character that we emerge as even better friends and only ignored each other for a few hours during the entire trip.

Sarah

is one of the most incredible people I know, not only to have the stamina and motivation to paddle frequent 14 hour stints and keep going when the ocean tidal rips and winds threatened to overwhelm her but for her generosity of spirit in wanting to share the joy that she feels at being alive and to make the day of everyone that she meets just a little bit better.
KIT AND SPONSORS
I'm grateful to our sponsors who enhanced the adventure. Most of the kit stood up well to extended time in a damp, windy environment. My three-piece Valley 

Etain

that was bolted together kept my kit dry and I was really pleased with the way she handled in the waves. We both had

Kokatat

drysuits which kept the sea water and sweat away from our bodies. Sarah had the expedition suit with a hood, I prefer the meridian dry suit without a hood. Our

Mitchell blades

are a great mix of durable and lightweight. I've paddled thousands of miles with the same pair and despite bashing them on rocks more than a few times, they are still structurally sound.

Flat Earth Sails

were a welcome addition for both of us. When we could use them, it felt like the kayaks were a few kilos lighter and our speed typically picked up about a knot, even into a quartering wind. If we stopped paddling for a snack, the sails often still drove us along at 2 or 3 knots. I think the record high speed for having a wee off the back of the kayaks while under sail was about 4 knots!
The sturdy and room

Hilleberg

Tarra

tent stood up to strong gusts without flinching and one 10mm pole survived Sarah falling onto the tent and totally squashing it (although it is a bit bent now!) Having a roomy vestibule each and pitching outer first are other great features. 

Icebreaker

and

Berghaus

kept us warm and dry on land. Our

hydrodown jackets

are incredibly light and can cope with rain and my

Mirgin La

waterproof kept me dry while cooking in the rain on several occasions.

Trek protein flapjacks

and the pure fruit and nut of

Nakd bars

helped keep us healthy, while

Mars

helped with the chocolate fix. One of my favourite snacks is now

chocolate covered Munchy seeds

– yum yum. Fortunately we had different favourite snacks and I didn't have to fight Sarah for the coconut and chocolate Trek bars which are clearly the best! We cooked with an

optimus nova plus stove

,

pan set

and kettle. I love the neoprene cover on the pan set which allowed us to keep one pan hot while cooking with the other. We only needed to boil pasta for a couple of minutes then let it continue cooking while we made up a sauce in the other pan.
Lifeventure heavy duty ziplock bags

were a great addition to my kit, giving an extra layer of protection to my electronics. I had spare camera batteries in one bag in the hatch in front of me and it kept the batteries dry and quickly accessible. To be extra safe, we'd put things like the satellite phone into both one of these bags and an

aquapac case

. I also enjoyed Lifeventure's

thermal mug

, which could be used as a flask or a cup.
Ortlieb dry bags stood up well to a long trip. The aqua cam case is my firm favourite for carrying valuable electronics. I won't go on a trip without one. We used Reed spraydecks, socks and emergency hatch covers. Sarah had to use an emergency hatch for 2 weeks when the sea claimed her day hatch and it worked remarkably well. I used Reed waterproof socks on land between my thermal socks and my trainers. They kept my feet dry when it was wet out or when crossing rivers. This was the first trip for ages where I had a fixed 70P Silva compass. Usually I take one that attaches with bungy cords. Since we had sails which increased the amount of ropes on the deck, I was glad not to have to worry about the compass.
I thoroughly enjoyed my 101 days in Alaska. Coming back to Kodiak where we saw dozens of fishing boats and heard gunshots was a bit of a culture shock. I realised just how lucky we were to see so much rarely visited wilderness. Entering civilisation wasn't all bad – one of the fishing boats gave us a beer each and we enjoyed meeting some other people. Once we reached Homer, I was both savouring the last few hours of a fantastic journey and looking forward to a celebratory drink, a hot shower, a real bed and coming home.
Bosh. 50 miles on day 100. How about that for round numbers? Well actually the gps read 49 nautical miles but Sarah maintains that she paddled a half century.
Thanks goodness we had the gps lent to us by Travis from Venturess as the tides were strong and unpredictable making today's paddle to the barren islands and onto the kenai peninsula challenging. Billy Pepper identified a weather window for us this morning and he was right, although we set off tentatively after turning back the other day. The Sea state was less this morning and the wind light although once we were 3 miles from shore the east going current turned SE which meant we made really slow progress, a lot of which was to the East rather than North. Once the flood kicked it took us NW which was more useful and we managed to hold a course taking us North right up the centre of the Barren Islands where the tide gave us a great push right behind us.
As soon as we'd made the decision to make the most of having 4 more hours of flood to try to get 13 more miles to the peninsula, the conditions got more challenging. A 15 knot headwind picked up and we passed through some feisty tidal races. That wasn't too bad but suddenly the current was whizzing NW at 4 knots, despite a prediction of a maximum current of 2.9 knots today. At our speed of around 3 knots in choppy warter, we couldn't find a course to take us towards land. Whatever bearing we tried had us heading NNW. We settled on a bearing of 45 true as that had us heading NNW at the fastest speed of 4 knots. Since land was North and NE of us, this was worrying, but at least we could try to get as far north as possible before the ebb started taking us SE so we could hopefully ferry glide to land. After 5 miles our heading was worrying me enough that i suggested we turn back for the Barren Islands. I thought we should be able to reach the westernmost Island. However when w e tried
the tide was too strong for that and we were heading West not SW as needed. So we reversed our track again. I could see Sarah was really worried when I said we weren't able to get back to the barren Islands. We could have done eventually if we'd heels or best course until the ebb kicked back in but if we were going to do that then wet might as well do it in the right direction.
Fortunately after 2 or 3 hours the flood weakened and we were able to make good progress towards land. The ebb was also almost 2 hours later than expected which also allowed us to get further up the coast than we'd expected. Bonus!
I didn't mean to write so much technical stuff, or to write much at all as I'm pretty tired after 16 and a half hours in the kayak.
We got up at 5am and it's now after 1.30pm. We're 32 miles from Homer. We'll try to reach it tomorrow although we don't know if the weather will allow that yet. It won't be a mega early start as we're tired and the current should be with us after midday. Watch the tracker on Sarah's website if you want to see if we make it. It's updated every hour. Www.sarahouten.com/the-mission/journey-tracker
From tired, achy but satisfied paddlers!