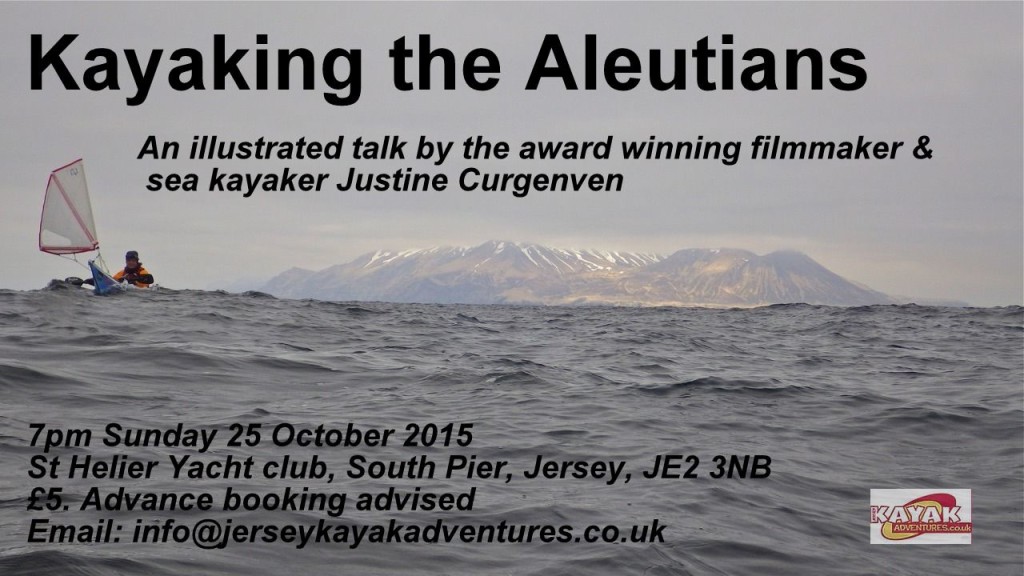 "Kayaking the Aleutians" picked up it's 5th award last weekend at the French Adventure film festival LES ÉCRANS DE L'AVENTURE.
It won the Jean-Marc Boivin Prize, which is the price for the authenticity of the adventure.
The organisers sent me an email saying
"Congratulations!!! We are very happy for you. Your adventure has been very appreciated and also the film !"
Unfortunately I couldn't attend the festival this time as I had a wonderful time there 2 years ago with my 'Tierra del Fuego" film. Instead I was at the Irish Sea kayaking Symposium, which was another great event.
I am giving a few more presentations of the Aleutians film in the next few weeks so you might get a chance to see the film or hear me talk about it if you are nearby.
Sunday 25th October:  St Helier Yacht Club, Jersey, Channel Islands.  £5 on the door.
Wednesday 28th October: World Extreme Medicine Expo, London. I'm presenting the Aleutians film to the delegates.
(Other speakers include Sir Ranulph Fiennes , Jon Snow and various medical experts)
Sunday 1st November:  The Doodle Bar, Battersea, London. I'm presenting the Aleutians film and taking questions.
Sunday 2/3rd Nov: I'll be joining Sarah Outen to paddle back to Tower Bridge, London to end her 'Round the world human-powered loop'. Paddlers are invited to join Sarah on the Thames. See her website for details.
7th/ 8th November: "Kayaking the Aleutians" is a finalist at Banff Mountain Film Festival, Canada
(Unfortunately I won't be there)
14th/ 15th November: "Kayaking the Aleutians" is a finalist at Graz Mountain Film Festival, Austria
(Unfortunately I won't be there)
21-22nd November: I'm waiting to hear if "Kayaking the Aleutians" is playing at Kendal Mountain Festival.
If it's playing, I'll be there.
Alternatively, you can stream the film on Reelhouse or download it or buy the DVD.
Click here for PAL DVDs – UK/ Europe/ Australisia
Click here for NTSC DVDs – North and South America / Japanwww
There are two versions of the film for sale – The 55 minute Festival Cut and the 72 minutes Directors Cut. You can stream or download either (or both) of these – or buy the DVD which contains both versions and 4 extra bonus films.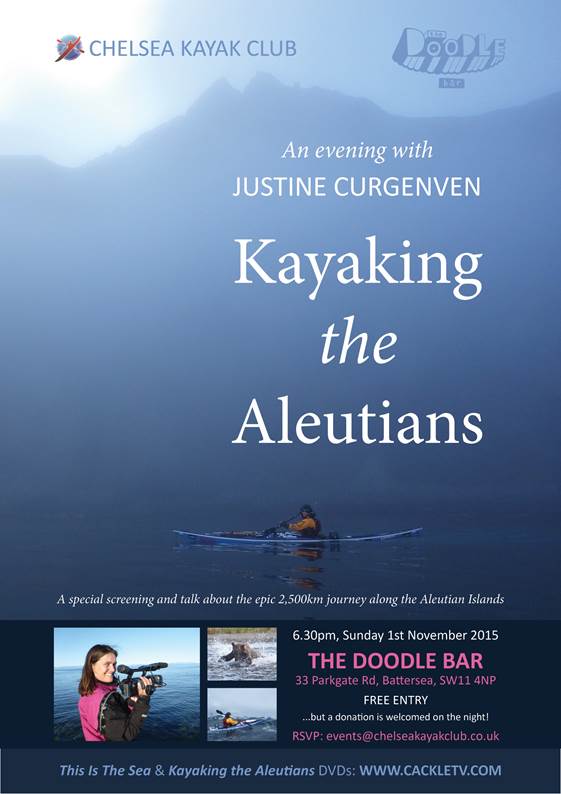 It seems like years ago that Cheri, Turner and I thought it would be a good idea to make 'a rolling DVD'. That's probably because it was half a decade ago! I think we all imagined it would be a fairly simple affair. I'd film them doing the roll from a few different angles, we'd come up with a few words and wham bam – there it would be a few months later.
How naive we were! It turns out that there's a lot more to each roll that I'd realised and it's not always easy to capture the key movements on camera. I wanted to take advantage of the medium of film to 'show' key points which meant that Cheri & Turner had to get used to 'presenting' to the camera which caused some laughs, and a few frustrations all round at times! While reviewing the footage, Cheri & Turner realised that they don't always do what they think they are doing :-) and they didn't always agree on the key points of how to succeed at a roll. Then of course, I always had an opinion, whether I could do the roll – or not! And we are all perfectionists with different visions of perfection… But our hours of debating and reshooting and rewriting the scripts are behind us, and I hope and think that the end result – both "This is the Roll" and now "This is the Roll 2″ are better products because we took so much time to try to get it right.
That's not to say that it's perfect. Greg Stamer kindly reviewed all the footage as the DVD was being created and he pointed out a few things that we might have changed if we'd had time – for example, on some of the rolls we didn't stress that in the Greenland competition, you should come back to the starting position to get full marks. The way we have said to do the 'Cross Arm Storm Roll' isn't the way that the current competition rules say to do it, although we asked other prominent Greenland-rollers and they also do it the way we have shown. We also used the word 'boat' instead of 'kayak' a few times, which Greenlanders may take offence to. No offence was intended, so sorry about that.
Despite these points, we are really pleased with the result and feel confident that "This is the Roll 2″ offers incredible value for money. Cheri & Turner have been teaching rolling for many years and are recognised world-wide for their abilities. There's over 3 hours of high quality instruction on 22 different rolls. The rolls are split up into four families – for example 'the Standard Greenland Roll family' and 'storm roll family'. Each family has an introductory chapter which demonstrates the common body motion. There's a land drill you can do to practice the motion and develop the flexibility needed. We could have easily spread the rolls over 2 DVDs but we decided to put it all in one DVD, partly for environmental reasons.
Because there is so much material, the download price is not much different from the DVD. However, with the download you will have the option to buy just the rolls you are working on, or you can buy a whole family of rolls.
The DVDs are being made right now. Both DVDs and downloads will be released on 25th September. You can pre-order the DVD and the download. Or please ask your local shop to stock the DVD and we'd be delighted to sell to them.
The official publicity information and ordering information are here.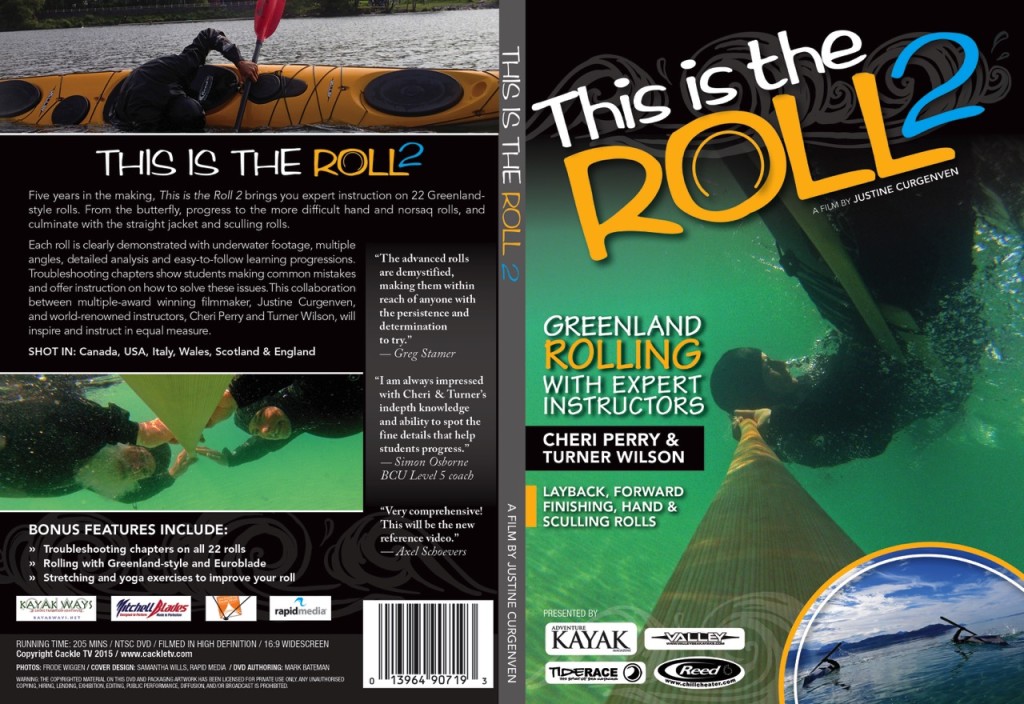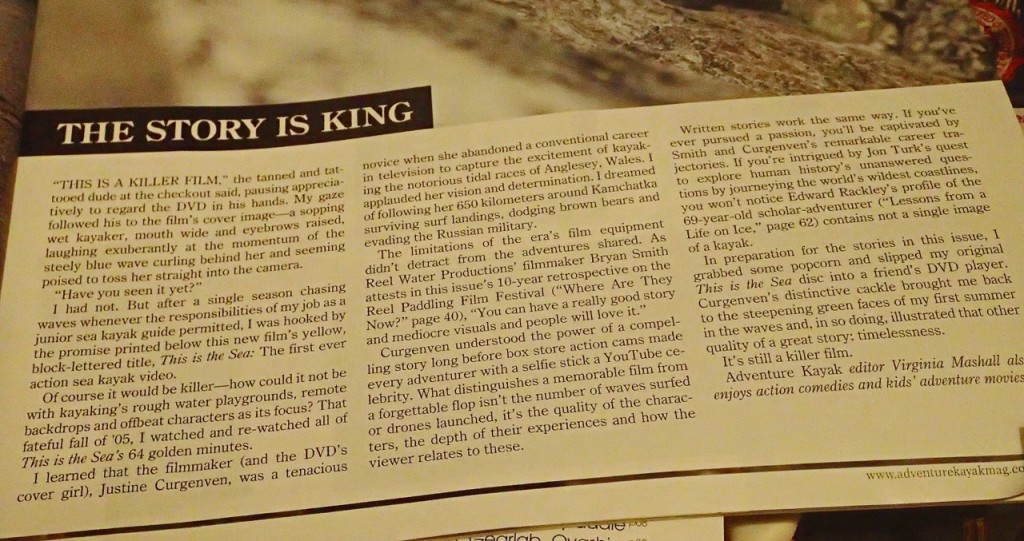 "Adventure Kayak" magazine's last editorial (above) described how the editor was introduced to my first sea kayaking film, "This is the Sea", 10 years ago. The editor kindly goes on to say that, 10 years later, the storylines still stand up to scrutiny – even if cameras and editing software has marched ahead in that time.
Looking back, 'This is the Sea" was released towards the end of the VHS era. I eventually had to throw away the last of the 1,000 VHS tapes that I created but the DVD versions are still selling today as part of a box-set.  In 2011, I started releasing films as downloads and this way of watching movies has increased in popularity. My turnover from downloads almost doubled every year for the first 3 years, and is still on the up.
Today – perhaps – a tad overdue – I am releasing a few of the films for rental. For the first time, you stream an award-winning film, literally at the touch of a button. So sit down – pour yourself a cup of tea, a glass of wine, a beer, or whatever you fancy and enjoy some inspiring paddlesports films. At the moment, you can watch "Kayaking the Aleutians", my latest film which has won 4 awards so far. There are 2 versions available – the 55 minute "Festival Cut" or the 70 minutes "Directors Cut". There's also "Tasmania circumnavigation", "Tierra Del Fuego", and canoeing across "Rannoch Moor" for the single bladers. Click here to see them all, watch the trailers and decide which one to see.
Please tell your friends if you think they'd enjoy one of the films. If they prove popular, then I'll make more films available this way.
I had an amazing time sailing and kayaking in Antarctica in 2014 so I'm really excited to be going back in December this year for another trip aboard the "Spirit of Sydney". There are spaces for 6 kayakers, plus me the skipper and 2nd mate. It really is a trip of a lifetime where you'll sail from Ushuaia to the Antarctic Peninsula, explore the stunning landscape & incredible wildlife for 2 weeks, before sailing back across the Drake Passage. There's the chance to go on overnight trips, camping on the ice and having your own little piece of paradise to ourselves. All food and drink is included in deal so you don't need to worry about shopping.
I've just put together a short video of some of the highlights of my 2015 trip which I hope you'll enjoy.
The dates are 25th November to 20th December 2015.